After reading about Harmony Vegetarian Restaurant from Luminous Vegans' blog (who I actually got to meet today!) we have been there 3 times and it gets better every time. It is on the outskirts of Atlanta and takes a bit to get there but it so worth the drive. One of my favorite things they have there is actually something they give to use at the start of the meal. I eat it as both a salad and palate cleanser and it is made out of grated carrot, daikon radish and cabbage marinating in a sweet rice vinegar. I am gonna start making this at home because it s that good.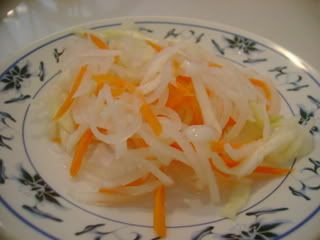 I got the General Tso's "Chicken" (my new favorite thing there)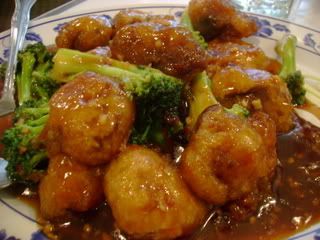 and Jared got the "chicken" with sting beans, which also rocked!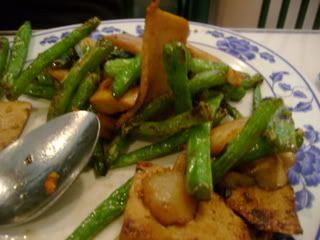 Today was the 2007 Holiday Bake-Off at Cosmo's Vegan Shoppe. I ended up making an Amaretto Cheezecake with a cinnamon graham cracker crust. It actually turned out really good . . . But not good enough to win : (
Here are some pictures of the bakeoff goodies: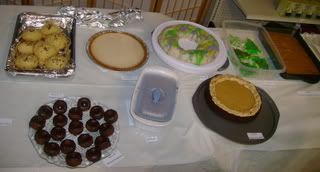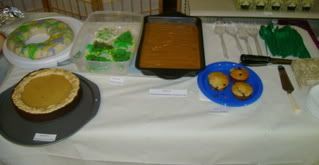 Jared and I at the bake off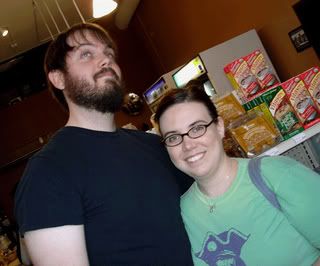 It was a lot of fun being in a room full of like-minded people. It was especially cool to meet fellow local vegan bloggers (check them out Luminous Vegans), who we hope to hang out with in the near future.