I went to the farmers market today to stock up on produce and bulk items. I got a TON of food for only about $50. There is no way I could go to any grocery store and get all the beautiful herbs, fruits, veggies and grocery items for $50. In fact it'd probably be double that! I have been to the farmers market probably a hundred times by now and I am still amazed by this place! I get such quality and quantity for so cheap.
Starting with these beautiful herbs, I got a huge bunch of basil, a big bunch of parsley and a small bunch of cilantro for $3. I have already washed and bagged the herbs and I got about 4 packed cups of basil. WOW! I am making pesto with it for veggie sandwiches tomorrow and I am going to freeze the rest for future use.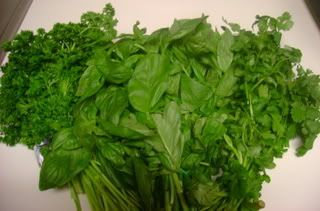 I have been eating a lot of fruit lately because some of my favorites have been the cheapest they've been in a while. Today I restocked our apple supply (not all pictured) with Empire, Gala and Golden Delicious varieties. I also got blueberries (2 packages), strawberries, blackberries, bananas and a mango. The fruit cost $17 but I did buy a lot of apples since they were 20% off.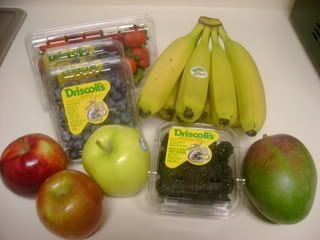 Jared and I cook a lot on the weekends, so most of these veggies will be used by Monday. We tend to do a lot of veggie plates, sandwiches and pasta or bean dishes on the weekends. Today I got zucchini, broccoli, ginger, asparagus, carrots, avocados, cherry tomatoes, shallots, garlic, green onions, kale and a green bell pepper. All of these veggies came out to be $13.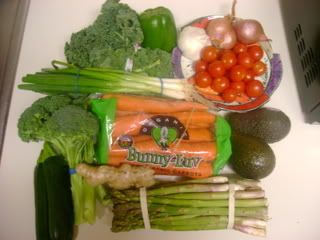 Lastly, I picked up a few pantry/fridge items including locally made tofu, tempeh, tofu crumbles, soy milk, sesame oil, organic whole wheat pastry flour, organic spelt flour, organic whole rye flour and organic dried black beans. This all came out to be $18. I see tofu crumble tacos with black beans and brown rice in our future.