So I finally got some cooking done. For breakfast, we had "Fronch" Toast from "Vegan with a Vengeance". This was the first time we had made this, and it was ridiculously good. We used Golden Pecan Bread from our local farmer's market.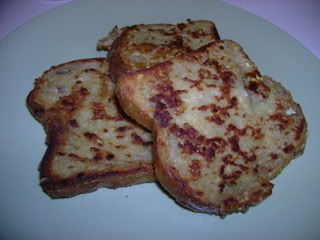 For lunch, we had a lentil soup. This is just my basic soup that I throw in whatever we have lying around. This one contained: red lentils, fingerling potatoes, carrots, celery, garlic, shallots, zucchini, thyme, rosemary, and sage.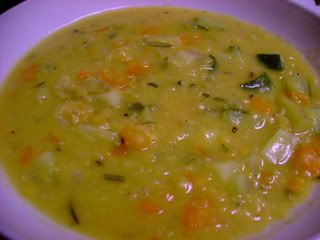 And for dinner, I used the Marinated Asian Tofu recipe from "Veganomicon" and grilled it. We had firm tofu that is made locally, but it was still a little too soft and didn't hold up to the grill as well as I would have hoped, hence, the little uneven pieces of tofu. Despite the random shapes, it still tasted great. I added that on top of stir-fried snow peas, carrots, broccoli, and green onions and rice.