I know anyone reading this blog knows how wonderful it feels to be in the kitchen after not being in it for a while. I spent a good couple of hours in the kitchen today making homemade seitan and what was suppose to be Lemon Gem Cupcakes. Both the seitan recipe and the cupcake recipe came from Vegan With A Vengeance. The seitan turned out pretty great and the cupcakes turned into a complete disaster.
First up, the homemade seitan. This recipe is simple, used only a few ingredients and was easy to follow. It was the first batch of seitan I made that didn't turn out too mushy. For the wet ingredients, I had to use ketchup instead of tomato paste because I only had frozen tomato paste (that's how I store left over tomato paste from the can). I also added a couple of bouillon cubes to the cooking broth for extra flavor. This recipe made so much seitan! For dinner tonight I wasn't super hungry so I made some sesame crusted seitan nuggets. I coated the nuggets in flour, then into a flax meal/water slurry and then into toasted sesame seeds. I fried the nuggets in a little canola oil and made a dipping sauce of Dijon mustard and maple syrup. This was sooo good!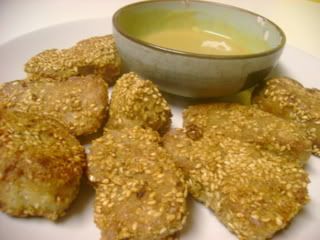 Now on to the cupcakes. They turned out horrible. Jared made these cupcakes before and had disastrous results as well, but I thought I'd give them another shot. The batter was so runny that it spread over the top of the muffin tin and made a crunchy flat top. I made the lemon icing which was also too runny and had a weird texture. So, following one of my fellow blogger buddies, Amanda from Walking the Vegan Line, I made these cupcakes into truffles!!! I added the cupcakes to the food processor to make them into crumbs and added enough of the lemon icing to hold the crumbs together. I used a small ice cream scoop to get equal mounds and rolled them into balls. I then dunked each ball into the remaining icing and put them in the fridge to set up. While they tasted like lemon truffles, they kind of looked liked glazed doughnut holes. Amanda is a genius!