This first picture isn't anything spectacular, just my breakfast of coffee with light soymilk and a piece of whole wheat toast with a little natural peanut butter. What I am excited about is the dishes and coffee press in the picture. We went to Ikea to find a lamp for our living room and I found this cute cup and saucer set, where the saucer is large enough on one side to have a piece of toast or other breakfast goodie on it. The cup and saucer were $6. I also have been wanting a coffee press and found this one for $12.
I <3 Ikea!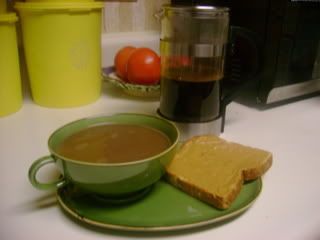 I'm sure everyone has seen those pre-packaged 100 calorie snacks on the market now. I have seen a few of my fellow bloggers making their own, and thought that was a good idea. Since I am trying to cut my fats and sugary carbs, I decided to make a 100calorie snack plate with veggies and sea salt. This plate had carrot sticks, cucumber spears, daikon radish sticks and cauliflower florets. It's amazing how tasty and filling 100 calories really can be.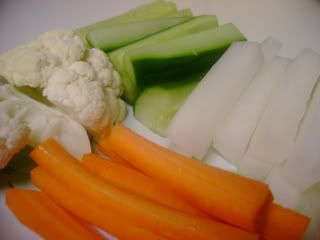 Since I had extra calories left from the day I splurged on dinner tonight. I made a noodle bowl with whole wheat Udon noodles, lite tofu, cabbage and onions with a soy/teriyaki/sriracha sauce with sesame seeds and cucumbers. This meal was hefty, coming in at 500 calories, 14 grams of fat (it also had 11 grams of fiber and 21 grams of protein) but it sure was good . . . and I still have enough calories for an apple for dessert/snack later!