I have had my face buried in textbooks and been so in my head lately, that I just haven't had much free fun time to catch up on everyone's blog or even update my own too often. Mad props to all my blog friends who have busier schedules than myself and still manage to keep up with our interactions. I need to pencil in my blog time, for sure!
This past weekend, although a very sad one, did include some good food. Since Jared and I couldn't officially celebrate our third wedding anniversary last Wednesday (since Jared was working), we ended up going to one of our favorite places, Doc Chey's, for lunch on Friday. I got my very favorite dish there called Spicy Garlic Eggplant with Tofu.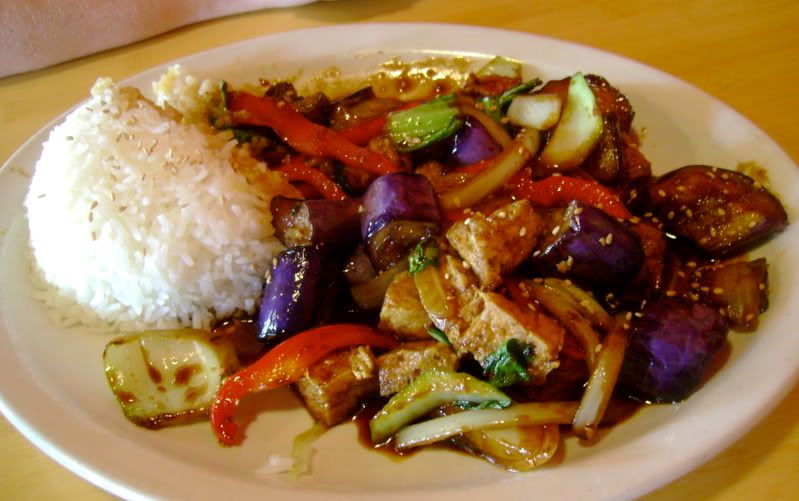 On Saturday we made taco salads for lunch. I cooked up some tofu crumbles with chili powder, cumin, cayenne, salt and black pepper along with a can of drained kidney beans and a splash of salsa to put atop a bowl of chopped romaine lettuce, diced tomatoes, chopped avocado and diced red onion. Since it was a salad, we used my dad's tostada vinaigrette that we call Rex Sauce (mixture of white vinegar, water, canola oil, salt and sugar) and a splash of sweet Thai chili sauce. I also placed a few corn chips on the side to crunch over top. Yum!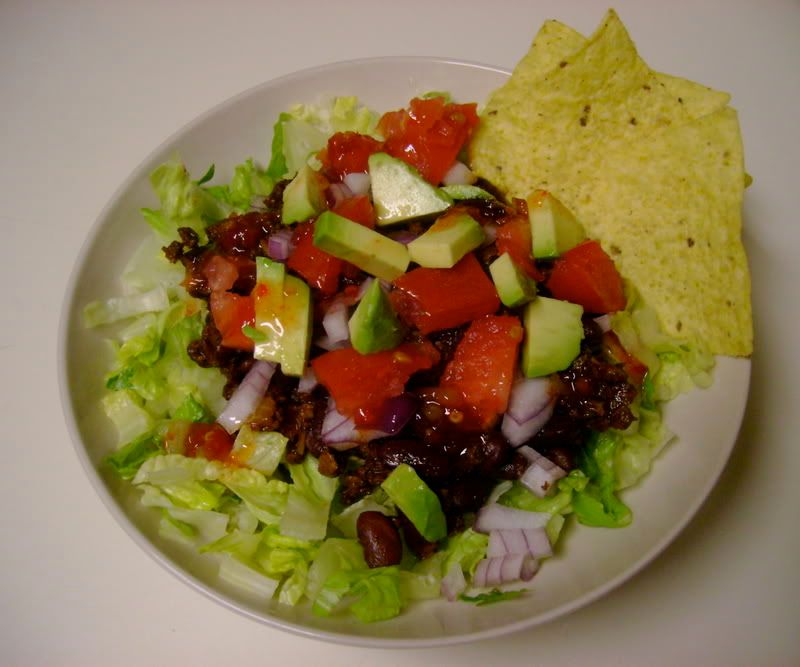 On Saturday night, I was feeling like having a good ol' plate of food that is good for the soul. I made fried tofu triangles that were coated in cornmeal, chipotle powder, chili powder, cumin, lemon zest and salt (inspired by the Chili-Cornmeal Crusted Tofu out of Veganomicon) along with some Cajun style red beans and rice and corn on the cob. I'm sad to say that the red beans and rice was a tad bit disappointing but what else might you expect from a packaged product? The tofu was addictive and the corn was sweeter than pie!


Okay, so after class today, dropping off the recycle items, laundry and studying, I really hope to catch up on everyone's blog today!!!