**Update** Jared has informed me he put his break back on his bike.

I am not one to eat breakfast when I wake up but I have my orientation this morning at the college and know I'll need something in my belly to help me pay attention. I made a very filling smoothie shake out of vanilla soymilk, a frozen banana and a handful of frozen strawberries. I seriously doubt the campus will have any thing to munch on today and the orientation lasts about 4 hours, so I may have to pack a snack.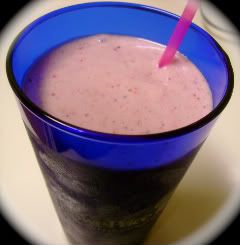 Oh, and I also wanted to show off our bikes. We went biking in downtown Decatur on the Trail this past weekend and had a lot of fun. It's starting to get hot though!
My bike is the pink Schwinn cruiser bike and Jared's is the orange IRO fixed gear/no break. I'm thinking about selling my cruiser bike and getting a fixed gear myself, although I personally would like to have a break on mine. Jared is super into bikes, so it would be a nice hobby for us to share together. You can check out Jared's blog here.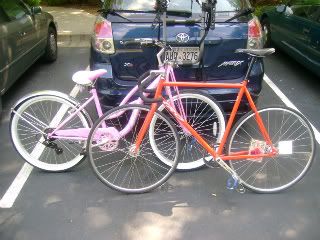 I love this picture of Jared!