*Update* Jared actually liked the "frosting." I believe him since he ate 3, one right after the other!

Jared and I are celebrating our 3rd wedding anniversary today! Well, we are at least acknowledging it because Jared is working tonight and won't be home until late. I still wanted to make today extra special, so I made chocolate cupcakes with peanut butter "frosting."
I got both the cupcake recipe (pg. 37) and frosting recipe (pg. 151) out of Vegan Cupcakes Take Over the World. The cupcake part turned out perfectly moist, rich and chocolaty, much like a Devil's Food cake. The peanut butter frosting on the other hand was just plain awful.
I'm not sure how people make a perfectly "fluffy" frosting, but I have never had any luck, vegan or not. I know it can be done, as I have eaten my fair share of homemade cupcakes, including way too many at my first vegan potluck I attended. I know it can be light and airy with the perfect balance of fat, sugar and flavor, but whatever disaster I whipped up today wasn't it. Mine turned out greasy, way too sweet and a thick and somewhat separated goo. Even though I was expecting a pillow of whipped peanut butter atop the perfect chocolate cupcake, I wouldn't have minded the texture of the frosting so much if the taste wasn't so bland. Really, it just tasted like oily powdered sugar with little evidence of peanut butter flavor. For some reason though I was hopeful that the peanut butter goo would match up all right with the chocolate cupcake but that was just wishful thinking. Oh well.
Since the cupcake part did turn out so well, I think I may just scrape the frosting off and save the bottoms to eat with a cold glass of soymilk when Jared gets home tonight.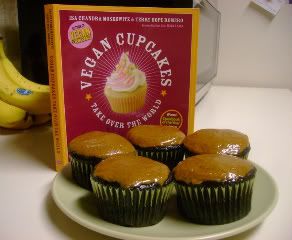 While it would have been nice to make the perfect cupcake to surprise Jared with, today isn't about that. Today is about making something with all my love for someone I am so lucky to be married to. Disaster or not, I know Jared will appreciate the effort!