Besides feeling a little guilty about Jared being at work while I got to play, today's potluck, my first vegan potluck, was a total blast. I can't even begin to tell you how much food I ate. Actually, I ate a nice amount of "food" but WAY too many desserts. In fact, I think I might be in a slight sugar coma at the moment. I got to meet a lot of cool people including the genius behind Dulce Vegan (who brought one of the best pineapple upside down cakes I have ever had) and a fellow Atlanta blogger, Laura of Eden In The Kitchen.
We had two tables worth of food! There were a couple pasta type dishes, tofu quiche, tempeh, chickpea salad, potato salad and watermelon (just to name a few)! Plus four kinds of cupcakes including pink lemonade (my favorite), root beer, chocolate and chick-o-stick. Leigh from Raspberry Swirl made a Strawberry "cream cheese" pie that rocked my socks off. Everything I ate was spectacular but I have to say the Goddess Pasta Salad Ashley made (out of Yellow Rose Recipes) was my favorite.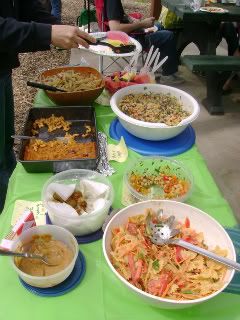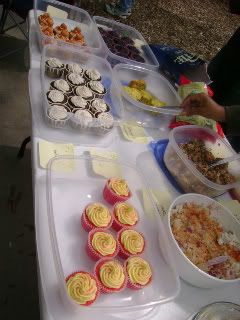 This was my first plate of food. Isn't that pink lemonade cupcake the cutest?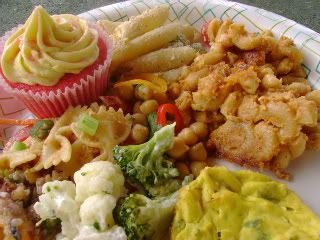 I made Mac and Cheeze, which was my version of this recipe that I added a little agave nectar and cayenne pepper to and topped with cracker crumbs with melted Earth Balance. It was pretty darn good, if I do say so myself (can't you tell I'm very modest).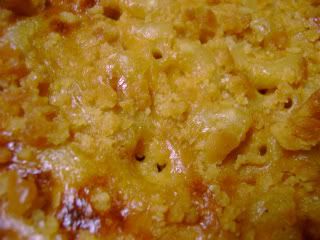 Many thanks to Ashley (Vegan Invasion) and Armando for making today happen! You are the coolest!!! (and the cutest!)


Alright, time for a little nap to shake off this sugar! Wish y'all could have been here today.