My buddy Ashley (the awesome potluck organizer) made my favorite savory dish at the potluck, the Goddess Pasta Salad out of Yellow Rose Recipes. I managed to make Jared a plate of food from the potluck so he got to try a bite or two of this salad and was in love. I decided to give the recipe a try to see if I could make it as tasty as Ashley. Alas, I failed. She must have put extra super duper love in her batch because mine just didn't taste as good. Maybe it was because it took me an hour to make or maybe it was all the measuring, but everything just didn't seem to come together. There was something about the dressing that was off. I'm thinking I put too much dill in mine and not enough salt. It's possible too that this is the kind of thing that tastes better day after day of being in the fridge. I guess I'll find out because it made a ton!
For the most part I followed the recipe but I did end up slicing an avocado on top since it needed be to be used (that and I love the stuff). I think if I make this again, I'll leave out the cucumber, used grape tomatoes instead of plum tomatoes, and maybe use fresh basil instead of dill. The corn didn't add a whole bunch to the salad for me, so I'm thinking I may add red bell pepper instead. The edamame rocked though!
All and all, I like the idea behind this recipe but it won't be on my regular rotation, unless Ashley volunteers to make it for me!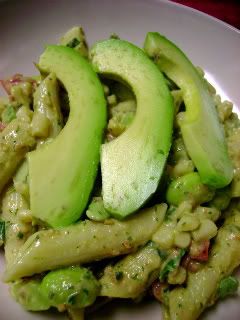 **UPDATE** It didn't get better the next day : (