UGH! Getting into school is so frustrating. I don't even know how I handled this the first time I went to college at 17/18 years old. I was informed today I gotta do a million more things despite thinking I had everything in order to get in this summer. I'll spare you the details but I ran into a roadblock with my transcripts, in state tuition petition and can't get the same answer from different "advisers" letting me know exactly what I need or don't need to take to get into the nursing program. Anyway, I've been stressed and haven't felt like cooking, or even eating for that matter. I know I need to keep my head clear to deal with this Dilbert-esque college, so, to clean out my fridge and get a power punch of nutrients, I made a veggie plate for dinner tonight. I roasted a head of cauliflower with olive oil, salt and Herbes de Province as well as a broccoli spears and a bunch of asparagus in olive oil, salt and black pepper. Needing some comfort, I also made some smashed potatoes with an Earth Balance, garlic, maple syrup and nutritional yeast sauce.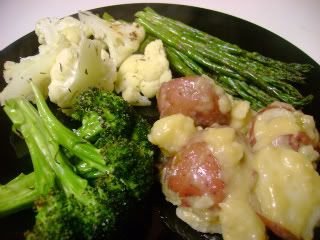 For dessert, my favorite fruit in the world, WATERMELON!!!!

.
I can always count on my sister Erin to send me pics of my adorable nephew, Gabriel. He always makes me smile, even on the worst of days.