I have already informed Leigh from Raspberry Swirl that it is her fault that I made this particular pie today. After all, she brought this No-Bake Strawberry Pie to the potluck yesterday. The recipe is from this adorable zine called Papa Tofu by Kittee (Cake Maker to the Stars) and it is probably one of the best pies I have ever had. It kinda tastes like a cheesecake with serious strawberry action. The pie is basic but does have a few steps that make it interesting to make.
First, I made her piecrust (which does requiring baking). I couldn't find my pie pan, so I used a 9-inch cake pan and it worked just fine.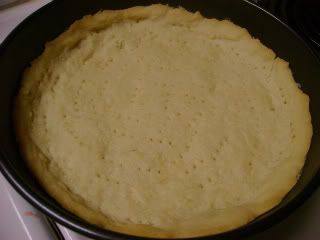 While the crust baked, I made the strawberry jam (that's right HOMEMADE jam) topping so that it could be cooling at the same time as the crust. I also whipped up the Tofutti Better than Cream Cheese and let it set out to so it wouldn't be so hard to spread on the cooled crust.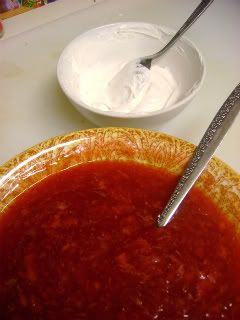 These beautiful strawberries were sliced while the crust and jam cooled and the cream cheese was brought to room temperature.


With the piecrust cooled, the crust bottom was slathered with cream cheese.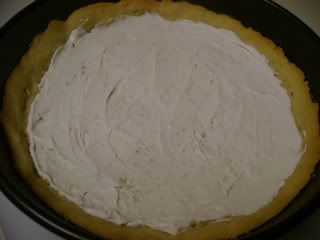 Next the sliced strawberries were arranged on the cream cheese layer. I didn't get a great pattern, but hey, if about the taste in the end!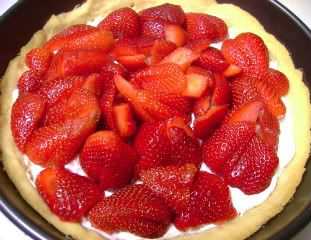 Last, the strawberry jam was poured over the whole pie. I kinda wish the strawberries were peaking through more than they did but I wasn't about to waste any of this amazing jam.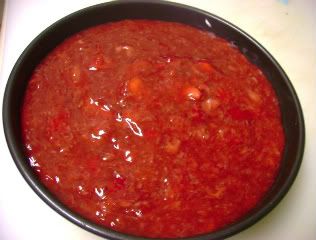 Don't you want a slice?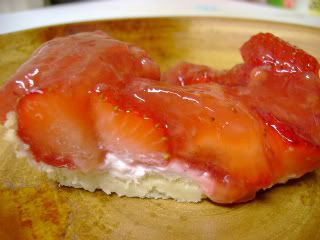 Then you need to buy this zine. Look how cute it is!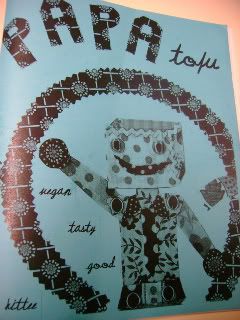 However, if you need to make this pie like right now, Kittee was kind enough to post the recipe here.