Jared gets off of work kinda late so I try to make stuff that tastes amazing reheated. This week I cut to the chase and made 2 of my favorite dishes into 1: Stir Fried Rice. Early in the day I steamed jasmine rice and let it hang out at room temperature. When I was ready to eat I fried up a block of tofu in canola oil and set it aside. I diced a broccoli crown as well as a small zucchini along with a shredded 1/4 of a green cabbage and placed the washed veggies in a colander. I slowing poured boiling water over the veggies in the colander to slightly steam/wilt the veggies so they wouldn't be raw in my fried rice. I then fried up my cooked jasmine rice with a bit of canola oil, sesame oil and sesame seeds until the edges were browned and crispy. I added the steamed veggies in with the rice with a little Hoi sin sauce, soy sauce and red pepper flakes. At the last minute I combined the fried tofu. I topped it all off with chopped green onions and more black and white sesame seeds. This was nothing ground breaking but Jared really, really enjoyed it after a long day at work.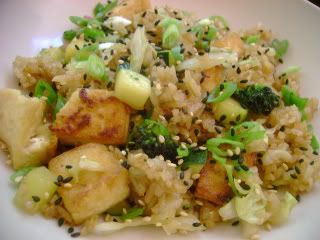 Is it true that one of my favorite foods of all times is back: Grilled Cheese!? Thanks to Teese and Cosmo's Vegan Shoppe for carrying it, we can again enjoy a grilled cheese sandwich when nothing else will do.
I'm not gonna lie, the very first grilled cheese I made with Teese didn't blow me away. The problem? I cut the Teese (insert joke here) too thick and it overwhelmed the whole sandwich. It tasted too soy milky and got really juicy/drippy when it melted (kinda like Buffalo mozzarella when it's melted). Plus I didn't think it was salty enough and kinda tasted like dill (not my most favorite thing). So, for my second grilled Teese sandwich, I cut the Teese thinner and added a bit of garlic salt, which gave it a salty bite and toned down the dill taste. Both times I made this I did add thin sliced tomatoes because I don't know about your tomatoes right now, but ours (from Florida which we got at our local farmers market) are so wonderful. Sweet, full tomato flavor and bright red! Plus I think grilled cheese sandwiches are a little boring without sliced tomato.
Perfection on a plate!


The price of Teese wasn't too bad either, about $8 for a pound of it (I have definitely spent more on an imported cheese before). I'm not sure it will be something we will always have around, because I could dangerously eat too much of it, but it is certainly the best non-animal milk cheese I have had since becoming vegan and I am thrilled I CAN have a decent grilled cheese sandwich once again.