Jared and I got back from another one of our quick and fully packed Florida weekend trips. Jared did great in the bike race in St. Pete but did manage to get a bit sunburned in the strangest places like on the very tops of his knees, the back of one of his calves, and the top of his left hand. I guess it makes sense if you think about what is exposed when you ride a bike. Sunburns aren't funny, but it is a little comical to see him with random red patches and not in the usual spots like his face or arms.
We stayed with my dad and step mom the whole trip, which always means loads of good food. Unfortunately, I only took pictures of the last meal we had together and only because my dad reminded me. My baby nephew, Gabriel, was an adorable distraction. I got to hang out with sister, Erin, all day Saturday but my poor brother-in-law, Mike, had to work, so I only got to see him for a short time at dinner. While I didn't get to meet up with my busy little brother, I did get to see my Aunt Jennie, who brought the most lovely homegrown nasturtiums. If you have never had nasturtiums, they are a peppery edible flower. They look gorgeous on any plate, but I think they are the most beautiful in salads.
Our last meal on Saturday night was a mostly vegan Southern veggie plate. The vegan items we had included: squash, pole beans, vinaigrette coleslaw, baked sweet potatoes, tomato slices and marinated cucumbers. I also added an orange nasturtium to my plate. The only non-vegan thing made was cornbread, of which I of course didn't eat a piece of. For dessert, my dad and I made a vegan apple crisp and of course, I forgot to take a picture of it. I was very proud that my family ate a mostly vegetarian, if not a vegan, diet while we were in town. (This isn't the best picture because the lighting wasn't ideal for these shades.)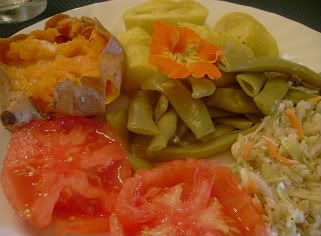 On our way back to Atlanta, we stopped to see my Grammie and Poppie, who live near Ocala, Florida. As usual, they unloaded a TON of fresh grapefruit from their trees (aren't we so lucky???). Somehow we managed to bring home 2 huge shopping bags packed to the brim with grapefruit. In fact, if you live in or around Atlanta, let me know if you'd like a few (leave me a message and we will try to meet up with you, if I know you). We have more than we could ever eat. I'm not sure what I am going to do with them other than juice or eat them, but I see sorbet in my future. If anyone has any grapefruit ideas, let me know! We have more than double than this picture shows.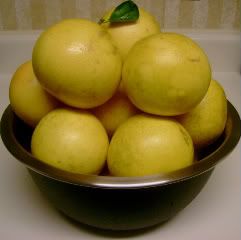 For breakfast, I just cut off all the skin and cubed one up. It was super juicy, a bit sour and a little sweet. It was essentially, the best grapefruit!