I haven't felt very hungry lately and so, I haven't been super inspired to cook or bake. I think this may be a good time to thumb through my many cookbooks for ideas and inspiration. This week especially, it seems more often than not, I just haven't been very satisfied by anything I eat . . . even stuff I normally love.
I'll start with something I wasn't even in the mood for (but Jared was) that ended up being really awesome. Keeping in line with my plan to get rid of aging pantry/fridge/freezer items, I made a tofu potato skillet type breakfast with red potatoes, firm tofu, red and orange bell peppers (sliced and frozen), a part of a red onion from the fridge and a ton of dried spices and spice blends. In one big frying pan I steamed then fried red potatoes in canola oil with salt, black pepper and a healthy dose of Sarah Kramer's "Needs a Little Extra" spice blend out of La Dolce Vegan! Once the potatoes were cooked through, I added the slightly thawed bell peppers that I ran my knife through along with the diced red onion. In a smaller separate pan, I fried up diced and then slightly smashed tofu in a little canola oil with yet another spice blend, the tofu scramble seasoning mix out of Yellow Rose Recipes. Once the veggies were cooked and the tofu was crisp, I combined the two in the big frying pan and added a touch of maple syrup. The two spice blends married perfectly and of course everything taste better with a little maple syrup.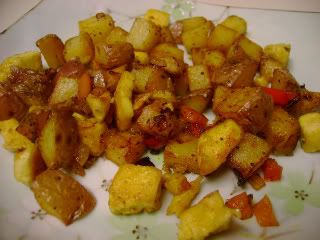 Now, the awful. I never thought a salad could be bad, but I was wrong. I cut up a head of Romaine (that was a bit bitter), sliced grape tomatoes, shredded carrot, a couple green onions, half an avocado, a few crunched up crackers, a shake of Bacos and my favorite homemade house dressing. I was going for a Chopped Cobb Salad. Besides the lettuce being bitter, the grape tomatoes weren't sweet at all, the avocado was funky, the Bacos overpowered everything and I used way too much dressing.


And the so-so . . . Jared personally loved these nuts, but I thought they were just okay. I have been munching on nuts lately and was in the mood for a candied spice mixed nut blend. So, last night for a sweet snack, I melted Earth Balance with corn syrup (another pantry item I want out of my kitchen, for good), sugar, cinnamon, freshly ground nutmeg, vanilla, salt and a dash of cayenne pepper. I mixed in raw cashews, roasted almonds and raw pecan pieces (all from the freezer), placed the sticky mixture on a cookie sheet and baked for about 13 minutes. I let these cool on parchment paper. After about an hour of cooling, I was able to break apart the pieces. These kinda tasted like brittle that was assaulted by Christmas. I could barely taste the cinnamon because the fresh nutmeg overwhelmed all the other flavors, even the natural roasted nut flavor. Next time I'll leave out the nutmeg and add some chili powder instead. Thank goodness Jared digs it, because I'm not a huge fan.