Not only is it my Dad's birthday today (HAPPY BIRTHDAY DAD!!!) but I also found out I was accepted into school to start this summer! Whoa Whooo! Granted, I still have a lot of work to do before I can apply to the actual nursing program, but at least I am finally able to take the prerequisites to get the ball rolling. I am still working on the residency issue, but hopefully I will get that cleared up before orientation in a few weeks. So, I am relieved I finally got in. Now the real work starts!
As usual, when I'm a little on edge, I like to be in the kitchen. Today, I made these beautiful 4 Berry Banana Muffins to clear my mind. I typically use soy yogurt in my muffins but I didn't have any so I used a mashed up banana and added lemon juice to the soymilk. Also, since fresh berries are pricey, I used frozen mixed berries that included blackberries, raspberries, blueberries and strawberries.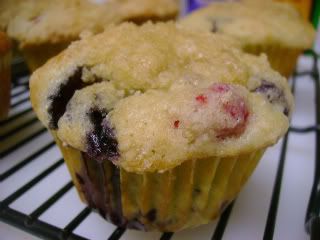 Can you tell I <3 muffins?