Man, I am so stressed out with school stuff. Like many of you out there, when stress overwhelms me there is nothing like kitchen therapy. After I got done going to the college to turn in more proof of my residency, I came home and decided to make bagels. Although a bit labor intensive, these were relatively easy to make. I got the recipe from here. For anyone who hasn't made bagels before there are essentially 3 steps: making the dough (mixing, kneading, rising, shaping and rising again), boiling the shaped bagels and then baking the boiled (and like mine, seasoned) bagels. The best part about this process was actually rolling the dough into bagels shapes. There are a few ways to shape bagels but I used the "rope method" which is when you roll a strip of dough out into a rope (go figure), wrap it around your four fingers, press the ends together and roll the seam side on the counter top or cutting board to essentially twist the ends together so they won't unravel during the boiling time. It takes a couple times to get it right but it's fun figuring it out. I like the recipe over all because the bagel turned out chewy but I did think there was a bit too much sugar and not enough salt in the bagel itself. Next time I'd bake the bagels a little longer as well. I did take pictures at every step, but I'll just show the before and after shots.
Shaped, risen and about to be boiled: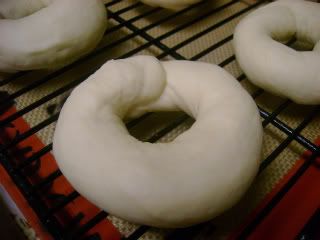 Boiled and dunked in an "everything" blend that included poppy seeds, sesame seeds, caraway seeds, garlic flakes, onion flakes and salt, just before baking: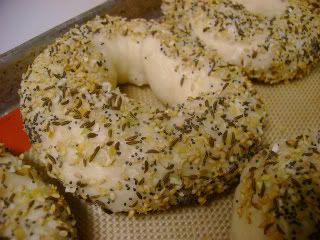 Out of the oven: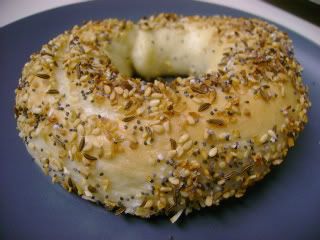 What might taste lovely with a homemade bagel? How about a little homemade compound butter made with Whipped Earth Balance, fresh basil and a little fresh garlic? Sounded good to me, and it was. There were a lot of flavors going on but my palate can handle it.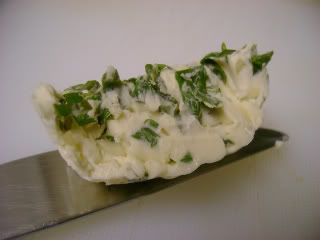 If you want to make your own compound butter all you need to do is take whipped Earth Balance (you could use non-whipped, but it won't be as fluffy) and mix in just about any finely chopped fresh herb (chives, basil, sage, thyme, parsley, garlic), dried spice (chipotle or regular chili powder, paprika, black pepper) and/or even a bit of lemon or lime zest. You can also make sweet compounds with maple syrup, brown sugar, cinnamon, orange zest, alcohol (rum, tequila, amaretto), nuts and/or fresh fruit to put on pancakes, waffles or French toast. It is easiest to work with room temperature (or semi-room temperature) Earth Balance. If you are putting a liquid in, such as maple syrup or alcohol, only put a tablespoon or two in or else it may never set back up. The flavor combos are endless and only limited by your imagination. You don't even need any special gadgets, just a bowl and a spoon or spatula. Once it is all mixed together put it in a bowl with a lid to keep it in the fridge to use as a spread. If you want to be more fancy pants though, you can place the compound on a piece of plastic wrap, form it into a log and freeze it until it sets, like I did. Whether you use it as a spread or slice it into discs, savory compounds taste awesome on bread, baked potatoes, corn on the cob (or whatever steamed veggie you'd like), pasta or on a piece of grilled tofu. It will keep about 5 days in the fridge (if it lasts that long) or in the freezer for about a month. Fresh herb compounds or ones that include fresh fruit should be used fairly quickly though, as they will spoil on you and start to turn brown and not taste that great.