It was this weekend last year that I moved from Tampa, Fl to the Atlanta, Ga area. It has truly been one of the best years of my life. Mind you, I do miss living near our families, but it was always a dream of mine to move to Atlanta, and Jared and I made it happen. We are close to the mountains (my favorite scenery) and we actually had four distinct seasons instead of just two seasons in Florida (too hot and not as hot). I got to enjoy snow for the first time in my life (at least that I can recall . . . I was, after all, born in Indiana). In this year, I decided to make a career change by going back to school, something I probably wouldn't have done in Tampa because I had a comfortable job there. I got to experience life as a homemaker on accident since finding a job here has proved to be almost impossible. Lastly, one of the biggest things this year has brought was a complete lifestyle change by becoming vegan.
This weekend marks my one-year anniversary of being a vegan! Deciding to live a cruelty free life has been one of the most satisfying changes in my life. I don't miss anything about being an omnivore because I have exponentially improved my cooking and baking skills by recreating my old favorites. I had a 40 drop in my cholesterol levels, love that I am no longer tempted to eat at 99% of the restaurants I would have in the past and maybe most importantly, my soul just feels so much better knowing that I am not contributing to any suffering for our gastronomical cravings or fashion needs.
Jared helped me celebrate my one year vegan anniversary by taking us out to lunch at one of our favorite restaurants in Atlanta: Soul Vegetarian. We rarely eat out now that we are savings for school costs, so when I get to eat at Soul Veg, I do it up right.
Most meals here start with a nice little salad with their famous Prince Dressing (which is what I loosely base our homemade house dressing on).


Jared also got a small bowl of Orange Lentil soup with his salad.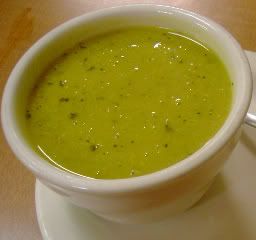 For my main meal (not the greatest picture), I got what I affectionately call, the "brown plate" which includes BBQ cauliflower (deep fried battered cauliflower drenched in BBQ sauce . . . trust me it is sooo good) and 2 sides. I almost always get their famous mac and cheese with onion rings. I could be less naughty and get collard greens or broccoli for a side but it's hard to pass up the mac and cheese and the BEST onion rings on the planet.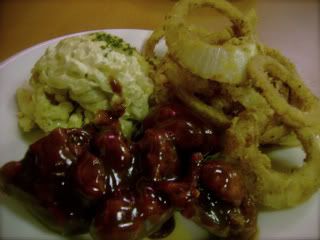 Jared got his usual tofu sandwich with onion rings. This sandwich kinda has a fried fish thing to it since it's dredged in a cornmeal batter and then placed on a bum with their homemade tarter sauce. You can't go wrong with this!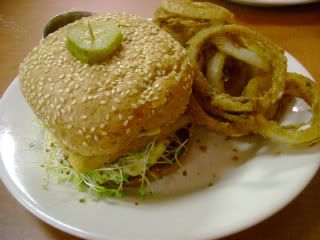 If lunch at one of my favorites places wasn't enough, Jared also took me to Abbadabbas and bought me pair of new flip-flops. I love shoes, generally, but I almost always wear flip-flops. I had my last pair for so long and wore them so often that the bottoms were completely slick. It feels weird breaking in these new flip-flops but I love them so much!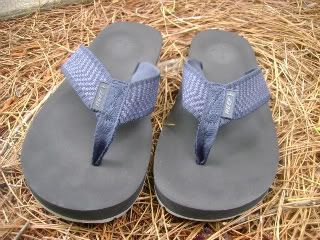 What's the best way to celebrate two anniversaries? Ice cream, of course! I have an ice cream maker but didn't have time to make a base to chill and then freeze, so we went to Whole Foods and picked up some Purely Decadent, my favorite brand of soy ice cream. They were on sale too! I was in a chocolate mood but they were all out so I tried a new flavor called Turtle Trails, which has caramel sauce, chocolate covered pecan pralines in vanilla ice cream. YUM!!!