It's Lori and I'm back! I went to the doctor today and was told no surgery was needed for my elbow/arm fracture and that I do not have to wear a cast or a splint . . . just a sling when I venture out. Turns out I broke my arm in a good spot (if there is such a thing) where I heal faster and better with movement. In fact, they said that if I DON'T move my arm, I could actually do permanent damage. It feels weird to move it and I am still in a lot of pain but I was told to get home and start using my arm (no heavy lifting though).
I have so wanted to get back in the kitchen. It was nice to have my own gourmet chef making whatever my heart desired but cooking is my hobby so it was killing me being on the sidelines. I made two treats already today, although my arm is telling me to take it easy, so it might be the only things I make today.
I made the Banana Blueberry Muffins from La Dolce Vegan by Sarah Kramer. So Yummy! Notice the crack in the muffin . . . in honor of my poor broken wing.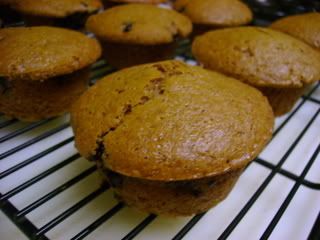 I also made a loaf of really great bread that had flax meal, sunflower seeds, walnuts and dried cranberries. I had a tofurky sandwich and it tasted like Thanksgiving in sandwich form. After all, I am thankful I don't need surgery.