Jared and I are getting into better shape and wanted to give our bodies a day off from having to break down food. So, for the past week we have been prepping our fridge/kitchen to do a one day juice fast today. It doesn't sound very ambitious but juice fasts are tough if you are use to eating whenever and whatever you like.
I've posted about juicing before, so today I'm just sharing what I call my Juice Feast Buffet. The easiest way to be a juicer is to be prepared by washing and cutting the fruits and veggies (that won't turn brown) a head of time. To make juicing a breeze, I prepared two over flowing plates of prepared or nearly prepared fruits and veggies to have ready all day. You should really drink homemade juices at room temperature since you get the full flavor and usage of nutrients at this stage, so I am keeping everything out on the counter top.
Plate #1 is my Greener On the Other Side plate. It has parsley, green onions, cabbage, cucumber, broccoli stems, romaine lettuce, celery, garlic, ginger and green bell pepper.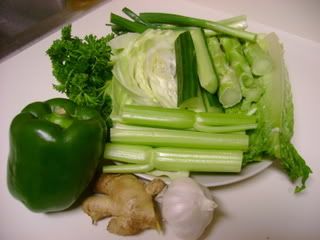 Plate #2 is my Sweeter Than Pie plate. It has beets, beet greens, carrots, granny smith apple, red apple (not sure the kind), tomatoes and lemon.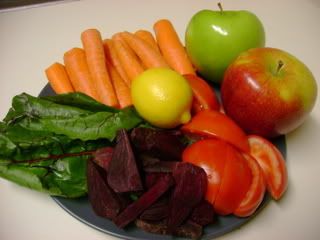 Since you should never eat OR drink something too sweet on an empty stomach (screws up your blood sugar/insulin levels), Jared and I made up our own versions of V8s for breakfast. Mine had tomato, celery, cabbage, carrots, beets and their greens, cucumber, green bell pepper and parsley. Jared's had broccoli stems, parsley, carrots, beets with their greens, celery, ginger, cabbage and cucumber.