I think I am seriously in love with the The DeKalb Farmers Market. It is a warehouse sized building packed to the brim with loads of wonderful things. They do carry meats, fish and dairy BUT they also carry a huge selection of soy milks/yogurts/margarines, faux meats, organic produce, loads of international foods and the name brand grocery items you'd find at Whole Foods for way cheaper. Basically, it's my version of heaven (you know, when you take away the non-vegan stuff). They also have several kinds of nut butter machines (such as cashew, almond and peanut), a very lovely cut flower section, fresh coffee, a deli with olives and various pickled items, a bakery with lots of vegan breads/muffins/bagels and a wine/beer section with quite a few organic choices. One thing I really, really love about this Farmers Market is the bulk items they have. Think of just about any dried fruit, nut, seed, spice, grain, bean or snack you'd like and they have it already bagged and reasonably priced (and most of the time organic). Another cool thing is that they have a HUGE recycle center in the parking lot so I always bring my recyclables and drop them off before shopping! So, if you are ever in Atlanta, this is a must go to place. The best time to go is in the mornings or the afternoons during the week (the weekends are PACKED). Oh yeah, and they have a fantastic cold salad bar and hot bar with lots of vegan items for lunch and dinner (open 11 a.m til 8 p.m.) but a lot of people go there during lunch. I had lunch there at about 1 p.m. today and it was still full of people on their lunch breaks. I got a plate full of salad and some tofu from the hot bar and it was under $3! Now on to the groceries!
The veggie items I got included white creamer potatoes (20% off), fresh herb packet with rosemary, thyme and sage, cauliflower, zucchini, green onions, an English cucumber, garlic, shallots, a red onion, daikon radishes, Roma tomatoes, asparagus (really cheap!) and carrots. All of the veggies were about $15 and mostly organic!


The fruits included organic bananas, Granny Smith apples, Empire apples, Gala apples, Fortune apples, a lime and a few lemons. All of these fruits added up to about $7 (all the apples were discounted by 20%).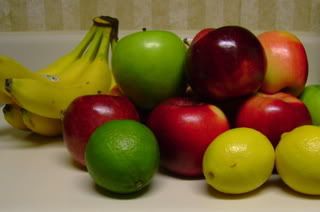 Finally, the bulk/grocery items included organic pearled barley, organic dried kidney beans, organic almonds, nutritional yeast, Herbes de Provence (for 68 cents!), garlic salt, red Thai curry paste, organic canned whole peeled tomatoes, organic canned tomato sauce, organic canned diced tomatoes, dried cranberries and organic dried garbanzo beans. This stuff was the priciest coming in at around $25 but most of these items will last a very long time.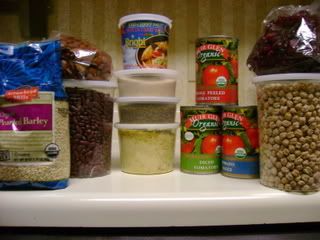 As you can tell, today's trip to the Farmers Market was basically to restock my pantry, counter tops and fridge. I think I did pretty good coming in at around $50 and I got to have a delicious meal before I shopped.