Could it be??? Yes, I made a meal that had lots of mushrooms and actually liked it. I'm not ready to cross mushrooms off my dislike list but this dish was very good. This recipe came from Yellow Rose Recipes, a book I am totally addicted to. At first I thought the Marsala marinated tofu was going to be too "boozy" but once I added the tofu to the sauce, it all made sense. It was a bit labor intensive but Jared loves mushrooms so it was worth the effort. We had our Marsala over angel hair pasta that I added olive oil and sea salt to. If you like Marsala and have this cookbook, this is a pretty good recipe to try out.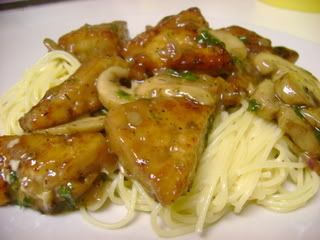 Tonight I was in the mood for soup so I quickly diced up onion, celery, carrots, red potatoes and sautéed them in a little olive oil with sea salt, black pepper, dried oregano, dried thyme and a bay leaf. I added some veggie stock, a can of diced tomatoes and a can of light red kidney beans. Man, do I ever love kidney beans in soups. They bring such a richness to a soup that cannot be beat. At the last minute, I added in a handful of fresh parsley to brighten things up.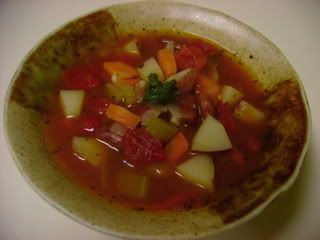 Also from Yellow Rose Recipes, I tried out the Buttermilk Biscuit recipe. SO GOOD! I like that she uses canola oil instead of vegan shortening, which is what I always used. I love (and had already discovered) using lemon juice (or vinegar) in the soymilk to make it thicken like buttermilk for the wet ingredients in the dough. It makes for a fluffy, tangy and downright Southern biscuit!