I am not a big fan of olives but my dad made some caponata while I was visiting and I discovered that, despite having olives, I love the stuff. I made up my recipe that turned out awesome.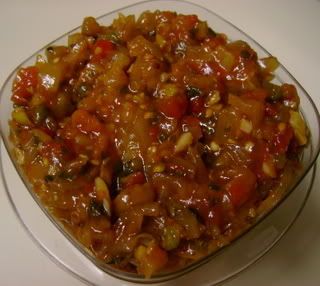 1 medium eggplant (I peel mine, cube it, salt it and let drain for about 30 minutes)
1 medium sweet onion sliced thinly
5 medium cloves fresh garlic finely chopped
14.5 oz can of peeled and petite diced tomatoes
2 tbsp natural sugar (or agave would work)
salt and pepper to taste
1/4 cup red wine vinegar (more or less to taste)
2 tbsp drained capers roughly chopped
1/4 cup green olives (with pimentos) roughly chopped
2 tbsp fresh parsley roughly chopped
Olive oil for cooking

After the salted eggplant has drained for about 30 minutes, rinse off the salt from the eggplant with cold water. Then with a clean kitchen towel or paper towels squeeze eggplant out so they aren't super wet. In a large skillet (I use non-stick) liberally coat the pan with olive oil and fry the cubes of eggplant until completely cooked through and have a nice color on them. In a seperate medium pan, sautee the onions and garlic in olive oil until translucent. Add the can of tomatoes, sugar and salt and pepper. Once that cooks for a few minutes, add the cooked eggplant, adjust seasonings and turn off the heat. Stir in the red wine vinegar, capers, olives and parsley.
Some people eat this with toasted bread as a dip. Jared and I had the warm caponata over pasta though and it rocked!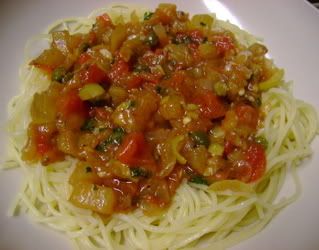 I had a few interested people in my pizza dough to use for the pan fried pizza I made a couple posts back.
With the guidance of my awesome dad, here is a really great pizza dough that I now make in the bread machine. If you don't have a bread machine, you'd have to knead it by hand until it was elastic and let it rise until doubled in size.

1 1/4 cup warm water (not too hot or it will kill the yeast)
3 cups unbleached all purpose flour
2 tsp active dry yeast (or you could just use 1 packet, which is 2 1/4 tsp)
1-2 tsp sea salt (depending on your palate)
2 tsp natural sugar
1-2 tbsp Olive oil (i just do a couple glugs, so this is a guess)

Add the ingredients in order to the bread machine pan. The setting on the bread machine should be PIZZA/PASTA DOUGH (that's what it is called on mine). Once it has risen, you can use it right away or store it in the fridge for a day or two. I shape my pizza by flouring the counter top and roll it out until desired thickness with a rolling pin. I'm sure this pizza dough could be baked in the oven as a traditional pizza but I have only used it in the pan fried method, which is my new favorite way to eat pizza. I made a pizza with some of the left over caponata (reheated).