I hope everyone has a lovely day tomorrow. Jared and I are going to be having Thanksgiving with my grandparents. Then over the weekend, we are hanging out with my dad and step mom, Jared's mom and dad and my sister is having her baby shower on Saturday. So, I will probably not be posting the next few days (although, I hope to still be checking on everyone else's posts).
Anyway, check out this crazy way I learned how to make a pizza. My dad sent me an article about pan-frying the pizza dough in olive oil on the stovetop. I have to say, I enjoyed the crust a LOT more with a crispy, olive oil coated crust . . . Plus, it only took minutes to make it! If you would like to experiment with this, here is the link to the article.
After the dough was pan-fried: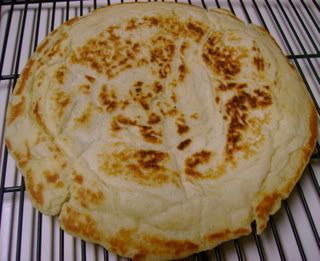 Topped with tomato sauce mixed with tofu crumbles and Italian seasoning along with vegan parm sprinkle cheeze on top. I only ate some of the crust, but Jared said this was an awesome pizza!