I haven't felt too much like cooking lately. I think because it's been kind of cold here in Atlanta (30's-60's) which a big change from Tampa, Fl. My warm and cozy comforter has been too seductive to want to get out of bed. So, in times like this, we are thankful to have, Village Pizza, an awesome pizza place that offers up an incredibly delicious vegan pizza. This pizza has vegan mozzarella, faux sausage and pepperoni, onions and green bell peppers (it also comes with black olives and mushrooms, which we skip since I don't like them). Despite some of my food intolerances, I do sometimes eat things that don't always agree with me. Luckily, I didn't feel too lousy after eating this pizza, probably because I rarely eat these things now. Sorry this isn't a very good picture, our camera has been acting up. This picture definitely doesn't do it justice.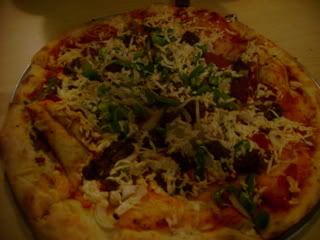 Even though I haven't felt like cooking, the baking bug has bitten me. I made two different kind of cookies. The first batch was the Apple Butter Cookies from The Damn Tasty Vegan Baking Guide. These scream cold weather, so if you have this book, give these a try.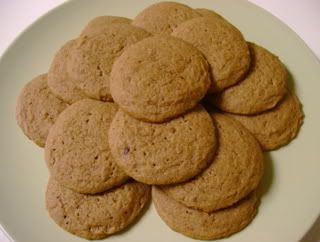 I also made up a chocolate chip cookie recipe that I based off of a few different sources. My version is very naughty. They have Earth Balance buttery stick margarine, turbinado sugar, brown sugar, molasses, vanilla extract, unbleached all purpose flour, baking soda, sea salt and loads of chocolate chips. Next time I will add some pecans or walnuts to these.