I'm not sure what got over me, but starting Friday and ending a few minutes ago, I spent more time in my kitchen than I have in a very long time. It was an awesome weekend of good eats!
First things first . . . As soon as I saw these Spicy' N Sweet Maple-y Nuts from Bazu's blog, I knew I HAD to make them. These are some of the best spiced nuts I have ever had.
Make these now. Right now.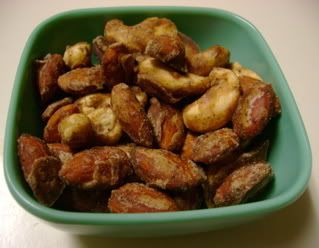 Here is a beautiful loaf of French bread I made, which has been the BEST batch of bread I have made in my new bread machine. It had the least amount of ingredients and took the most amount of time (5 HOURS!) but it was so worth it.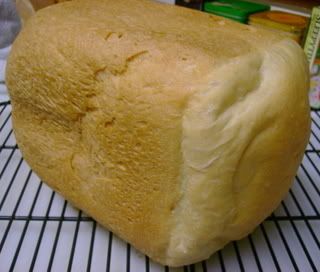 I cut all the crust sides off and made garlic toast with them and used the non-crust white inside of the bread to make these croutons.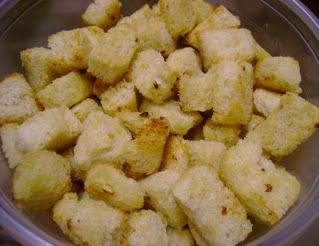 I used the crouton recipe in Veganomicon (pg. 81-82) and also made the Caesar dressing recipe. I was trilled with the croutons and thought the dressing was pretty good but not like Caesar salad dressing. I'd make it again though.
Friday night I made an Asian Noodle Soup. A few weeks back I had made an Asian inspired veggie broth out of onions, carrots, celery, garlic, ginger, black pepper and soy sauce and froze it. I thawed/reheated the broth and in my steamer, steamed cabbage, zucchini and baby bok choy. For the noodles, I used an eggless wonton wrapper, cut into strips, which I found in the frozen section of our local Asian market. I boiled the strips of wontons separately (which only took like a minute), added the cooked noodles to a bowl with the steamed veggies and broth ladled over everything. Topped with green onions, this was very filling and an awesome way to use up extra wonton wrappers.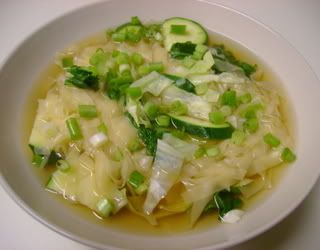 Saturday, I made the Blueberry Streusel Muffins from the Damn Tasty Vegan Baking Guide. My new favorite thing is using soy yogurt in my baked goods because they lend such a nice sour note that really brings everything together. This time I used a blueberry flavored soy yogurt, which turned the batter purple. These are probably my favorite muffins and they taste great with any fresh or frozen berry.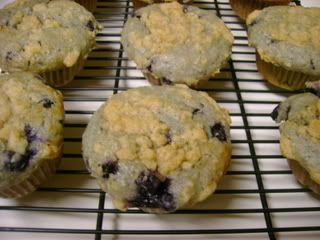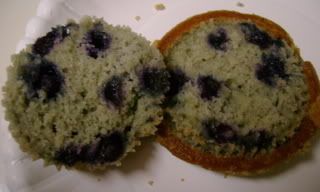 Today I made one of our old stand by meals . . . the beloved tostadas (although, they look more like nachos). These had blue corn chips, some chipotle pinto beans I blended up, tomatoes, red and green onions, some of my Dad's famous Rex Sauce (sweet & vinegary), sweet Thai chili sauce and some of my homemade guacamole. Jared added some left over cut up romaine lettuce on his. I never get tired of these.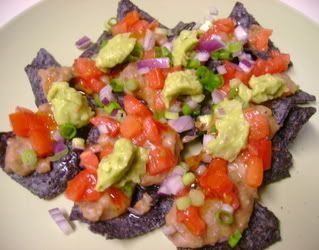 And last but not least . . . my new favorite dinner. Veganomicon's Chickpea Cutlets (pg. 133), garlic mashed potatoes, green beans and soy sausage saw mill gravy (same stuff I pure over my biscuits when we have biscuits and gravy).