Making a full on Indian meal as my first attempt after about a 2-month cooking break was a gutsy move on my part. There isn't really a super fast way to make really great homemade Indian food, especially when you're a novice in the cuisine. I went to a local Indian grocery store this past week to get a couple things to help me through including some aged basmati rice and these two lovely products:


One of my favorite parts of eating out at an Indian restaurant is the gigantic spiced lentil cracker with chutney condiments they bring to the table when you arrive. I was on a mission to make these at home to enjoy. I found these lentil crackers at the store but wasn't 100% how I was going to handle and cook the large discs so I opted for the mini versions called Papad Jeera, which are the size of a small tortilla chip. These little babies are amazing to watch cook. As suggested from the various online sites I came across, these papads should be VERY slightly dampened with a touch of water and then let ALMOST completely dry again before cooking. I put a little oil in a small frying pan over medium heat and gently threw in the papads and watched in a matter of 5 seconds on one side and 5 seconds on the other side as they turned into the miniaturized versions of the one I always devour at restaurants. Besides purchasing tamarind-date sauce to dip these papads in, I also made another one of my favorite toppers at Indian restaurants: onion chutney. All I did was cook ground paprika, cumin and salt in a little oil for a few seconds, added a finely chopped Vidalia onion, tomato paste, sugar and a touch of tamarind date sauce. The onion in the chutney shouldn't really be too cooked but only heated to take the edge off and marry the flavors together . . . maybe 5 minutes? This chutney was pretty right on after being chilled for a few hours in the fridge.


So, just making these papads and the onion chutney took a while to make but I pushed through to make some of the best curry I have ever made at home. The main dish contained potatoes that I boiled whole before hand, cauliflower, peas, coconut milk, salt, and various spices such as coriander, cumin, chili powder, turmeric, fenugreek, nutmeg, cinnamon, ginger, cardamom, bay, black pepper and mustard (there were a few more I can't recall now) as well as a half a can of coconut milk. Boy or boy was this tasty. It didn't have a spice/heat that hit you right away but rather came up from the back after a bite was swallowed. It wasn't a lingering spicy heat, which was pleasant.
Of course I made rice that complimented the curry perfectly. I prepped my aged basmati rice pilaf style in a bit of Earth Balance and these 5 lovely additives:


1 cinnamon stick, 5 whole cloves, 5 whole cardamom pods (green), 1 bay leaf and a pinch of saffron threads. I added a combo of water and coconut milk to the oil "cooked" rice and let it cook for about 20 minutes and fluffed it with a fork. Typically, I remove the spices so that people do not chomp down on one of those spicy bad boys accidentally.
I think the key to good Indian rice is to rinse the rice in a colander several times to get the excess white starchiness off. Just run it under water (or soak several times) until the water runs almost clear. Then let the rice totally dry out once again (you'll be surprised how fast this happens, actually) before adding to the oil. I swear this ensures that you won't get sticky, gummy rice but rather fluffy separated grains. I usually use a liquid to rice ratio of 2:1 (actually slightly less than 2 cups of liquid to 1 cup rice).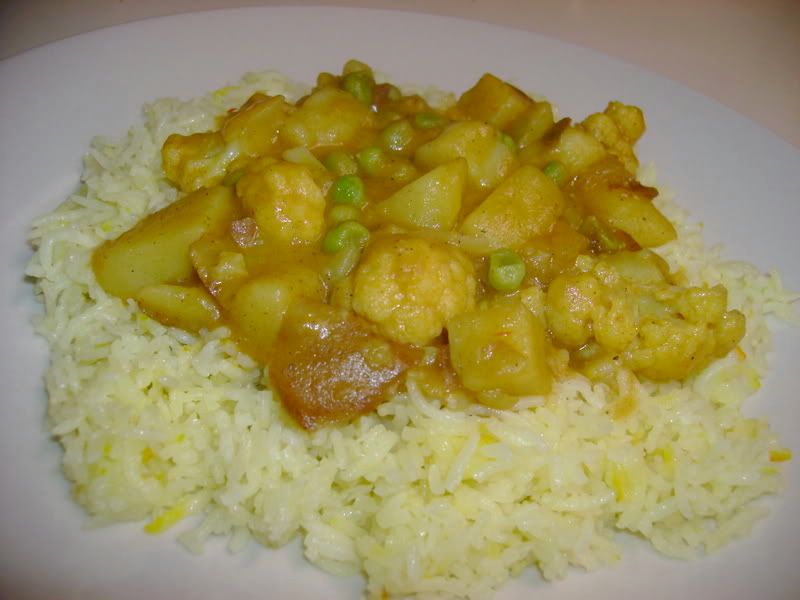 All and all, I was very happy with my first meal back, especially since it was so time consuming and labor intensive. And even after 2 days passing since this awesome meal, our house still has a lovely perfume of cooked Indian spices lingering.