Yeah!!! Summer term is over. Grades aren't out yet, but I think I did awesomely in all three classes. Oh, and get this . . . I really like chemistry now. It was pretty cool to start at something so abstract and have it built up into something amazingly complex and meaningful. Yeah, I know I'm a nerd.
To celebrate my summer courses ending, I made a trip over to Last Chance Thrift Store (Decatur location) to hunt for some treasures.
I LOVE LOVE LOVE 1970's kitschy designs and color schemes of yellow, avocado greens, browns and oranges. These magical color combos were a definite in the house I grew up in (*although I'm quite sure my folks would call them "tacky" or "hideous" instead of magical). I recall our kitchen being modest and a bit darker than other parts of the house due to the brown cabinets that overpowered the muted/pale yellow counter tops and linoleum floors (I think they were yellow . . . I'm getting old and my memory is fading). We had this amazing shaggy green carpet throughout the house and of course wood paneling on the walls in several rooms. I loved it!
One thing is for sure, I didn't grow up around fancy matching Pyrex glassware and I don't recall my mom hosting a Tupperware party at our house, but for some reason I am especially drawn to Pyrex casserole dishes and nifty Tupperware from that era. There is something about these things that are so comforting and really, really hard to pass up when I see them at a thrift store. Needless to say, I was super happy when I came upon 3 awesome items that only cost a total of $5.
The first thing I found were these matching Tupperware containers that didn't look quite deep enough to store salad dressing but clearly looked like some sort of container for a liquid condiment. After some research, I found out that these gems are oil and vinegar cruets. They are in very good shape and only cost $2 for the pair!!!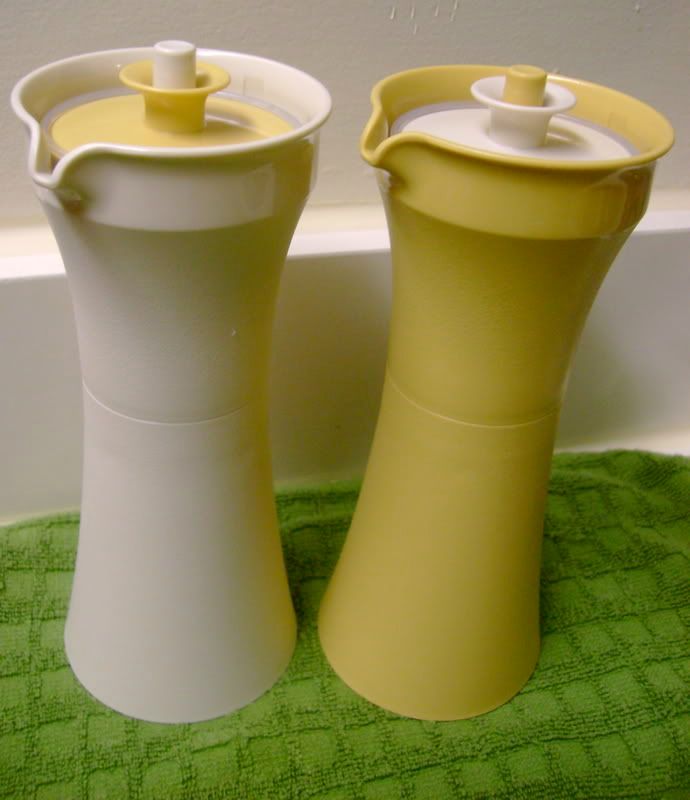 Next I found this crazy spaceship looking item that turned out to be a kitchen timer, made by Presto (Eames Era Space Age UFO design). I had a hard time finding out a lot about this particular gadget so, I'm not a 100% on the Eames Era tip, however, it was only a dollar, I needed a kitchen timer, it looks freakin cool and it works!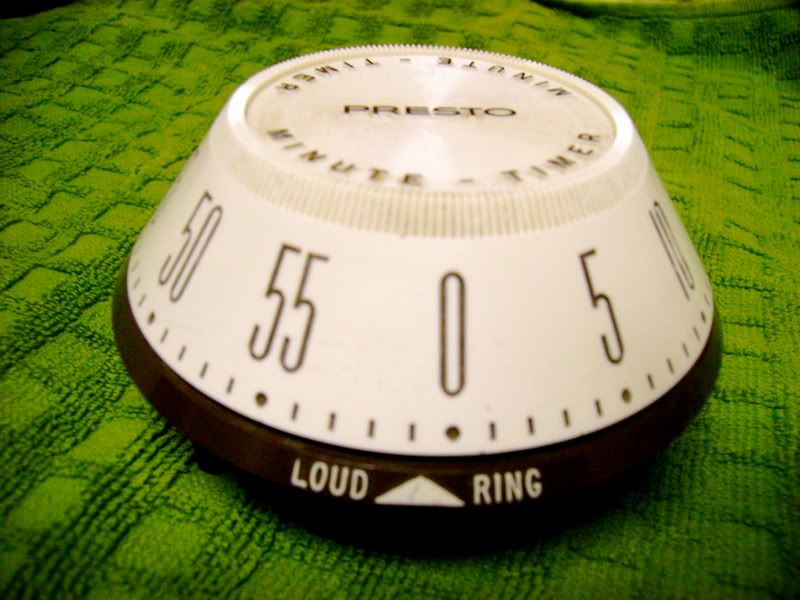 The last beauty I found was a Pyrex Woodland Brown Flower 1 quart casserole dish. It doesn't have a lid, but honestly, even when I have casserole dishes with glass lids, I hardly ever use them. This was $2, which is a little more than what I would spend on an incomplete piece, but it HAD to come home with me! It was practically begging me.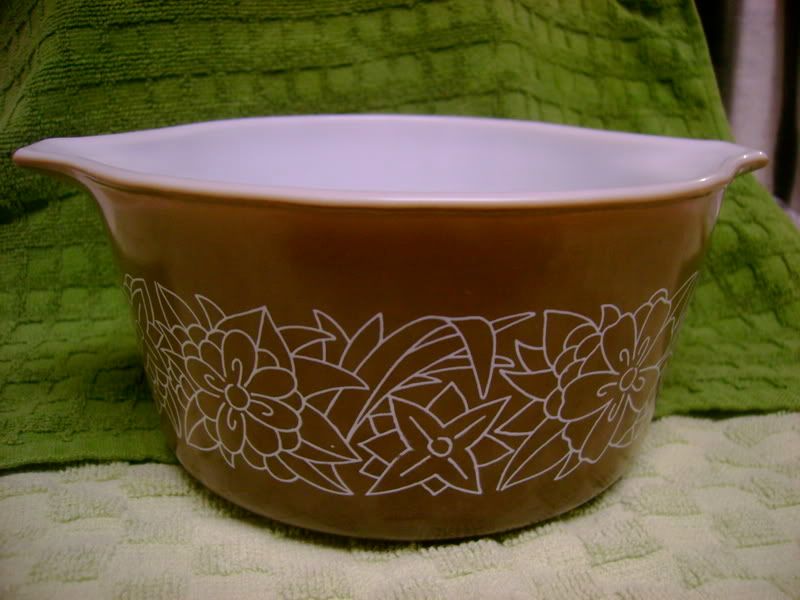 Now, I gotta start prepping for the Indian meal I am making for Jared tonight. It seems like I haven't made a decent meal in forever. I hope I didn't lose my touch in the kitchen and it turns out well enough to brag about.
I'll be visiting everyone's blog super soon!