Let's see, I made all A's in my 3 summer courses and presently have a 4.0 GPA. This felt like a promising start to August. However, besides my lovely grades and overall healthy and happy family, this month has been kinda crappy so far . . . It all started with taking Sweetpea to the vet for all her shots and updates for the year that came out to about $250, then my 93 Ford Thunderbird (we call her the Dirty Bird) likes to give me the shit eye every now and again (the car version of giving the shit eye is by turning on the most dreaded CHECK ENGINE light). Oh, and because my birthday is this month, I had to get emissions testing done on the ole' Dirty Bird and pass for my license/registration to be renewed. We Passed!
Oh, and if all that wasn't enough, I found out I have to get a very expensive dental procedure done ASAP that won't be done anytime real soon because we just spent WAYYYYY too much on my tuition and books for fall semester.

Oh, and I turn 29 on Tuesday, August 19th AND that is the first day of my fall classes as well as the start of my last year of being in my 20's. Time to start thinking about, putting together and actually accomplishing my 30 before 30 list. I think the first on my 30/30 list will be organizing all of my random old pictures that should be respectively in proper photo albums instead of ratty ole' shoe boxes. There is quite a few and clearly, at my age, I would have a lot of OLD pictures.
I mean, I need to protect gems like this . . .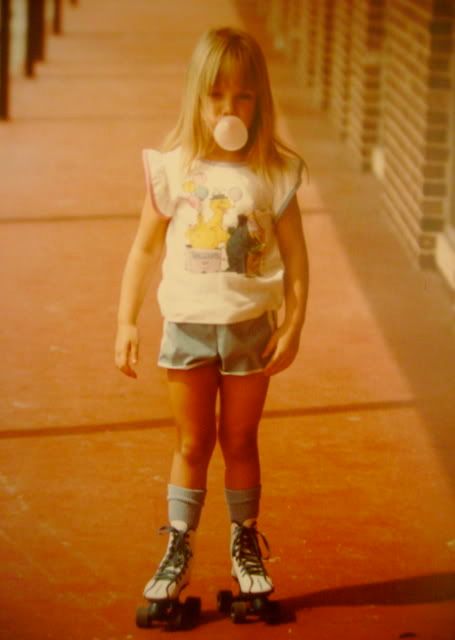 This was taken of me in Tampa, Fl when I was around 4 years old, blowing bubbles, lookin' sassy in my 1983 outfit, complete with some bad ass skates. Ah, to relive those carefree moments would rock.