My darling sister Erin and lovely brother-in-law Mike are coming up from Florida for a visit. They are expecting their first baby (the first grandbaby on this side) and wanted a little trip before the baby comes and we are very happy to see them for a day or two before they head further north. My sister, who is normally an omnivore, is a bit turned off by meat these days due to her pregnancy . . . so, this makes cooking and/or eating out a lot easier. Soul Vegetarian, here we come!
Anyways, I always like to make something sweet for all my guests and decided to make muffins for Erin and Mike (and of course Jared and I) to munch on. I used the Blueberry Streusel Muffin recipe from The Damn Tasty! Vegan Baking Guide. Instead of all blueberries, I decided to use a frozen mixture of blueberries, blackberries and raspberries and boy did they rock! The muffin is sweet and moist, with bites of tart and colorful berries bursting in your mouth. Plus, there is a sweet and crunchy crumble on top that matches so well with the texture of the rest of the muffin.
I hope Erin and Mike like them as much as we did.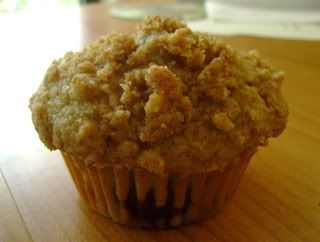 Last night for dinner, I made simple wraps. I found these really tasty chili tomato flour tortilla wraps made with canola oil vs. partially hydrogenated stuff. I spread homemade hummus on the tortilla along with sliced tomato and a handful of clover sprouts. I heated the wraps in a pan with a touch of cooking spray, which made the tortilla crispy, melted the hummus and heated the veggies up a bit.
These were so tasty, Jared had two!