Today is day three of the elimination diet. Like before, I feel hungry a lot of the time even when I just ate . . . side effect of not eating whatever I want. It is hard to watch cooking shows and I have to leave the room when Jared eats something that I love but is not on my plan. To make sure I do have a lot of options, I stocked up on some groceries. I got raw/blanched almonds, mango, dried lentils, dried pinto beans, quinoa flakes, sunflower oil, peppermint tea, napa cabbage, bananas, watermelon, baby bok choy, sugar snap peas, green grapes, cucumber, pears, sweet potatoes and fresh thyme.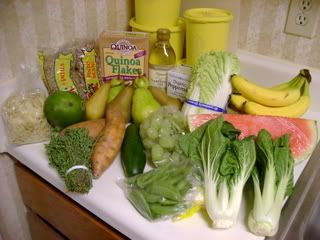 I think the things I have missed most in my cooking have been onions and garlic. I made these lentils today that had carrots, celery, brown lentils, fresh thyme, sea salt, sage, rosemary, oregano and basil, on top of steamed jasmine rice. I think a lot of people would enjoy this dish but I think it would have been a lot tastier with onions.


With the raw/blanched almonds, I made almond milk. With my immersion blender, I ground up a cup of the almonds with about 1/2 cup of filter water until smooth. I then added 2 tsp of maple syrup and a sprinkle of cinnamon along with 4 more cups of filtered water. I strained out the ground almonds through a very fine strainer. I think next time I will leave out the cinnamon, use less water and use a bit more maple syrup.