Well, I have tried out some potential problem foods including onions, garlic, tomatoes and potatoes. All went pretty well but I think I am going to continue to limit my consumption of these foods . . . since I could eat onions, garlic, tomatoes and potatoes every day. Onions seemed to be the problem child out of the four which is a bit heart breaking. I'm not sure I will completely get rid of onions in my diet, but I think I can eat them in moderation and definitely try not to eat them every day. I have been eating loads of bok choy, rice as well as salads like this one that had romaine lettuce, alfalfa sprouts, grated carrots and cucumbers.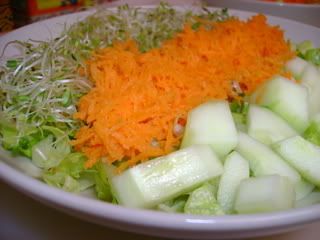 I don't think Jared should suffer since he doesn't have any aversions to foods so I somehow mustered up the will to make a few things for him this weekend.
Saturday morning, I made him breakfast in bed with banana pancakes (my basic pancake batter with a mashed up banana) topped with strawberry sauce made with frozen strawberries, agave nectar and maple syrup. Jared was very happy, but tried not to rub it in, too much anyway.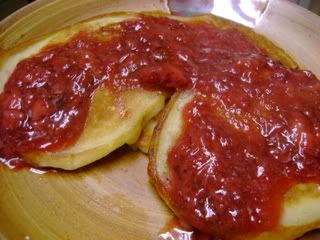 I also made Jared a Thanksgiving inspired meal to thank him for working so hard every week, working long hours every day, doing a difficult and thankless job (he's a stock broker) while I still look for work. He was my official taster for almost every one of these items since I couldn't eat most of the things I made him. I made some more cranberry jelly, green beans, mashed red potatoes with sea salt, soy creamer and whipped Earth Balance, along with stuffing that had celery, onions, apples, veggie stock, poultry seasoning (just the name, not actual poultry in the seasoning)and Earth Balance buttery sticks that was made on the stove top but baked in a casserole dish in the oven. Lastly I made a pan gravy with browned all purpose flour, whipped Earth Balance, sea salt, black pepper and veggie stock. The only thing I could safely eat were the green beans since they were only seasoned with sea salt and sunflower oil and I tasted a potato after it was boiled but before it was mashed with all the soy products. JARED WAS BLOWN AWAY BY EVERYTHING! The only thing I didn't make on the plate were the potato rolls Jared found at the grocery store bakery, which ended up being accidently vegan. Jared likes to make mashed potato, stuffing and cranberry jelly sandwiches with them. From start to finish, it took about two hours to make this meal, so that's good to know for holiday meal planning in the future.