Before the holidays start and my sister's baby shower is around the corner, I have decided to do an Elimination Diet for food allergies and intolerances. I have done this once before and it's not a diet really but a systematic way of tracing foods back to chronic body reactions. For years I have had digestive issues and I am once again at a point where it is making me crazy and need to know if food is to blame. Last time I did this, I discovered greens like collards, kale and most lettuces as well as broccoli and cauliflower do not agree with me. Last time I did this I was not a vegan so I am also curious to do this as a vegan. Some common food sources of allergies and intolerances are already out of my diet such as dairy and eggs, but soy, wheat, corn and nuts can be HUGE allergens, so this time I can focus on those.
To get rid of some of the food I cannot eat for the next few weeks, I made some of my favorite things. This plate of food was fingerling potatoes that were first boiled then roasted in olive oil and garlic pieces along with sliced tomatoes, alfalfa sprouts and homemade guacamole. I also made a dressing inspired by the amazing dressing from Soul Vegetarian that has nutritional yeast, soy sauce, water, agave nectar, both fresh and powdered garlic and olive oil. I drizzled the dressing over the tomatoes and potatoes.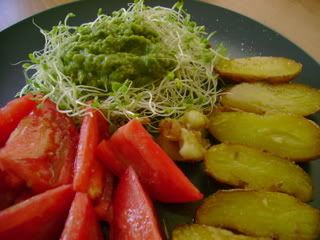 I also made cranberry jelly with fresh cranberries, natural sugar and lemon zest. This tasted so good on a toasted English muffin . . . actually it tasted good on everything!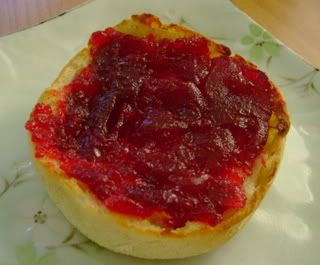 Today I started the first part of the diet, which is a modified whole foods diet. I will still be posting about my food, since I still have a lot of options. For lunch today I had pinto beans that were soaked overnight and cooked in water and sea salt along with a sliced and roasted sweet potato that had olive oil, sea salt and maple syrup. It's kind of refreshing to taste things for what they are.