Every now and again, I like to clear out the kitchen and restock. This includes canned goods, dried herbs and flour in the cupboards, fruit on the counter tops and veggies in the fridge. It started last night with a veggie and tomato soup. I used up the majority of the veggies in the fridge including carrots, celery, green beans, zucchini, fresh thyme and parsley along with onions and potatoes from my veggie basket. I also included a box of veggie stock, a can of tomato sauce, dried rosemary, oregano, basil, sea salt and black pepper. I also made whole wheat flour biscuits using hazelnut milk instead of soy milk, which surprisingly went with the soup, despite having a heavily hazelnut flavor.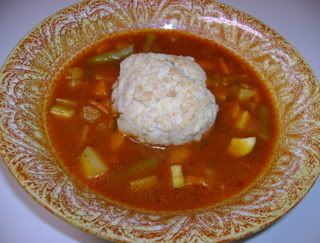 For dessert, I used up the plums that, on their own, were kind of mealy and flavorless. After splitting, coring, filling the center with brown sugar and whipped Earth Balance and baking for a few minutes, they came back alive.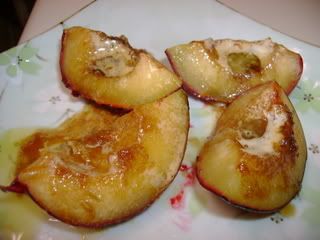 Tonight, I didn't feel like cooking, so I whipped up some hummus that had fresh lemon juice, lemon zest, fresh garlic, canned garbanzo beans, tahini, almond butter, olive oil, agave, sea salt and black pepper. In an attempt to get rid of a bag of unbleached all purpose flour, I also made a loaf of bread. I spread the hummus on the fresh bread with sliced tomatoes and red onion. It turned out to be a pretty great dinner.