After weeks of testing various baked goods and dining out with company, my body finally had enough. I went a bit crazy at the farmers market today, restocking my fridge and counter tops with veggies and fruit. I came home with tomatoes, bok choy, sweet potatoes, zucchini, apples and bananas, to name a few.
Tonight started with a simple soup. I decided to try and duplicate a veggie soup I always get at one of my favorite chinese restaurants called Chinese Buddha. To start, I cooked garlic in sesame oil until the garlic was golden and crispy (careful not to burn it). I added water, yellow miso paste, ginger, onions, a touch of soy sauce (flavor and color), sea salt and black pepper to the crispy garlic. At the last minute, I added loads of bok choy and zucchini to complete my soup. It was pretty good but next time I will use less oil.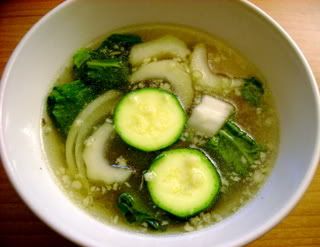 Then I had what turned out to be a very red, orange and brown dinner. I baked a sweet potato until just tender. While the sweet potato baked, I grated up a zucchini and onion sprinkled with sea salt to suck out most of the moisture. The slightly dehydrated zucchini and onion were added to left over jasmine rice, black pepper, flour and a "eggy" slurry of 2 tbsp ground golden flax seed and 3 tbsp water. I formed these into patties and fried them in canola oil. I also sliced up a tomato for good measure. The sweet potato was split open and topped with whipped Earth Balance and cinnamon sugar mixture.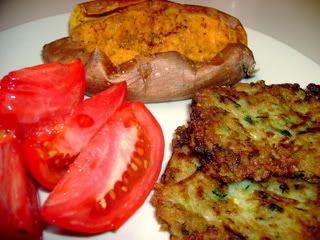 Now I feel back to normal.