After a full week of visitors and very little cooking/baking, I went a little crazy in the kitchen today. Our friend Star was busy with the bike race and didn't make it over to our place last weekend, so I never got a hold of her vegan sugar cookie recipe. It all worked out because it forced me to come up with my own. I still need to play around with the recipe a bit more but, all and all, I am pleased with the taste and texture. My sugar cookie recipe had turbinado sugar, Earth Balance buttery stick, Tofutti cream cheese, vanilla extract, golden flax seed slurry (which served as the egg replacer, add 2 tbsp ground golden flax seed to 3 tbsp water, to equal 1 egg), all purpose flour, baking powder and sea salt, plus more sugar for the top. I only let the dough chill for a hour which made it hard to cut the tender dough with the cookie cutters. Luckily with the help of additional flour and a spatula, it all worked out. Next time I think I will chill the dough over night to make sure it is super hard. If I get the recipe just right, I'll be sure to post about it.
This picture showcases 3 of my favorite things:
cookies, guitars and Hello Kitty.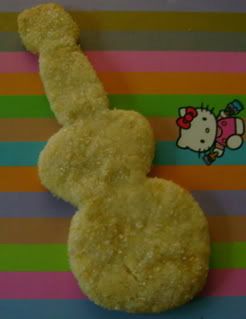 I also did butterfly sugar cookies.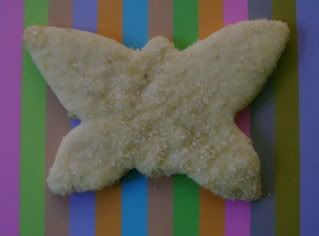 My dad and step mom were two of our visitors this week and while out kitchen gadget shopping, they bought me these adorable cookie cutters. Despite not being religious, I couldn't resist these mini Noah's arc inspired shapes. When I made these before, I didn't have small cookie cutters so I had to try Celine's Cheezy Quakers with my new cookie (or cracker) cutters. Like last time, I made a few modifications. Instead of sea salt, I again used garlic salt and instead of paprika I used a spice blend Jared made from Sarah Kramer's La Dolce Vegan! cookbook (from what I can tell, it was the "Needs a Little Extra" spice blend). I also sprinkled the tops with turbinado sugar. These were awesome, in part because of a great recipe (with or without my modifications) and because of the cute shapes. Thanks again Dad and Delia!