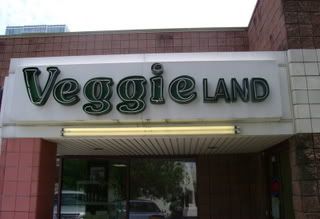 Jared and I were going to try this all vegetarian but VERY vegan friendly place on my birthday but it was closed on Sundays, so yesterday we finally made it out to Veggieland. Like a lot of restaurants around here, Veggieland is in a strip mall. The menu was vast, ranging from veggie burgers with loads of toppings, salads and hot dishes. PLUS, at least 5 vegan desserts! Despite being in the richy rich part of Atlanta (Buckhead area) the prices were incredibly reasonable.
Jared decided upon the daily special of Potatoes and Veggie Curry with Brown Rice. It was very tasty and was only $5.95.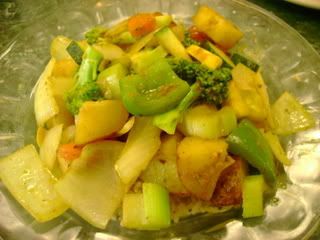 For me, there were too many choices and I panicked. I got the chili hot dog that came with sweet potato fries and coleslaw. It was good but not great. This is something I could have made at home. I will say the coleslaw was awesome and made with vegan mayo! The sweet potato fries were a bit under cooked. Luckily, this whole plate of food was only $4.95, so at least I didn't feel ripped off.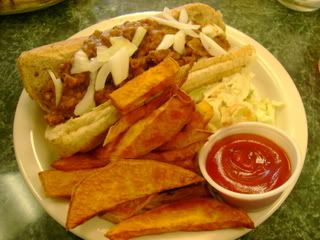 What we will go back for was the vegan desserts! Jared and I shared the strawberry cake. It was a two layer yellow cake with vanilla icing and strawberries in the middle and a strawberry glaze on top. It was so good that I talked two other customers into getting a slice. The cake was the priciest menu item coming in at $3.95 but I love that a restaurant has vegan desserts and well worth the price to encourage them to continue making lovely vegan treats.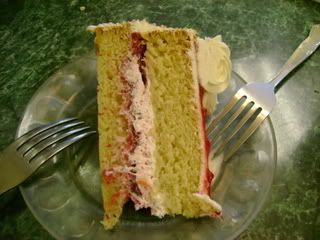 All and all, we will go back to Veggieland. I will take my time with my menu choice and pick something I couldn't make at home way better. Jared was very pleased with his dish and we both are in love with the dessert!
Veggieland
211 Pharr Rd Ne # B
Atlanta, GA 30305
(404) 231-3111