So, Jared and I decided to check out Athens today, which is about an hour from where we live. We researched places to eat and decided upon The Grit for brunch and Clocked (couldn't find a website for them) for a late lunch. I was a bit disappointed with both meals over all, although they had good points to them.
My dish was very exciting on paper. It was Potatoes and Veggies with grits and biscuits . . . ALL VEGAN! The grits were creamy and delicious and the biscuits are some of the best I have ever had (except for my Grammie's). The main dish had way to many green peppers, which I am not super wild about anyway, the potatoes were not cooked enough and the whole dish was too heavily powdered with nutritional yeast.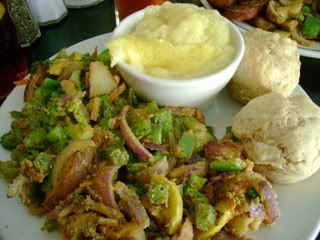 Jared had better luck with his plate, which was Tofu and Veggies. He had potatoes on the side with his and they were seasoned nicely but again, not cooked enough.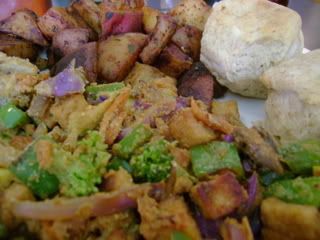 All and all, The Grit has a lot of potential. We would try them again, but maybe for dinner instead.
On to Clocked. This was a diner style place. Just about everything on the menu could be made vegan, which is cool in theory.
Here is a picture of Jared (he didn't know he was being photographed) waiting for our food. Very cool decor. I mean, they had velvet wallpaper!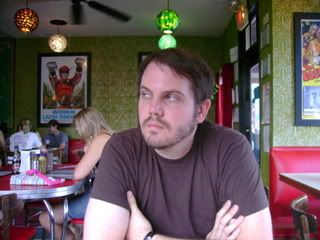 I got what was promised to be a Philly Cheeze "Steak" which when I think of a philly cheese it has thinly sliced "meat" and a cheesy sauce. I know a cheeze sauce would be kinda hard but the cheese on this wasn't very good. The "steak" was just a veggie burger. I felt cheated. There were peppers and onions too which were okay. The french fries were pretty good as they were actual hand cut potatoes. I got mine with this amazing Basil Jalapeno "cream" sauce to dip my fries in. Pickles were pretty good. Dills, sliced thick.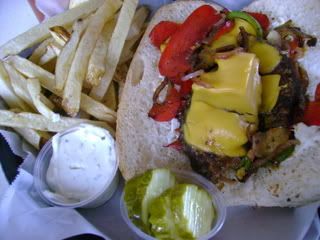 Jared got a Patty Melt which had a veggie burger, grilled red onions, Russian dressing and some kind of vegan cheese on a marble rye. He said it was good but something he could have made at home. He also got french fries.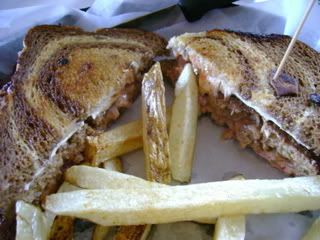 I'm not sure I would repeat Clocked . . . Maybe for some fries and that creamy Basil Jalapeno "cream" if we were out late.