It's Saturday, so that means I made waffles this morning. This is one of the tastiest and easiest recipes ever. It has 1 cup of unbleached white flour, 1 tbsp baking powder and a pinch of salt with 1 cup soy milk, 1 tbsp agave nectar and a splash of canola oil added to it. This is a fluffy waffle batter so we have to stir it up every time we add batter to our waffle iron. The topping was a a couple of spoonfuls of raspberry preserves mixed with a splash of maple syrup with a perfectly ripe peach and raspberries stirred in.


We were running around today and went to Green Sprout for lunch.
I got Orange "Chicken" and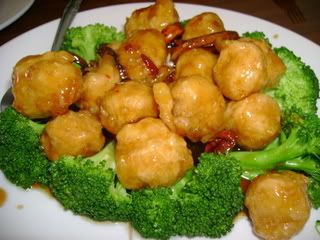 Jared got "Shrimp" and broccoli. They nailed the shape, color and texture of the shrimp, which freaked me out a bit.