After a failed attempt to see The Simpsons Movie today we decided to go
out to lunch. Jared and I aren't huge fans of Chinese food but we love
this place in midtown Atlanta called Chinese Buddha. They have a meat
eaters menu and a vegetarian menu which is cool but a lot of their
vegetarian food does have eggs in it so we still have to ask a lot of
questions. This is a place we would take our parents to when they come
to visit since it would please a lot of palates.
I got Sesame "Chicken" with steamed rice.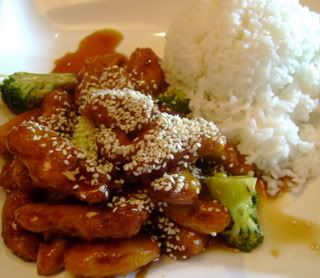 Jared got "Beef" Satay with steamed rice.