Two of my very favorite bloggers, Walking the Vegan Line and Veganista, have tagged me to do a Meme. I think this is a very cool way to learn about one another and am VERY honored that I was asked.

Rules:
#1 Players must list one fact, word, or tidbit that is somehow relevant to their life for each letter of your first or middle name.
#2 When you are tagged you need to write your own post containing your first or middle name game facts, word, or tidbit.
#3 At the end of your post choose one person for each letter of your name to tag. Don't forget to leave a comment telling them, they're tagged, and to read your blog.
#4 If I've tagged YOU (the bloggers that I've tagged are listed at the end), please join in on the fun!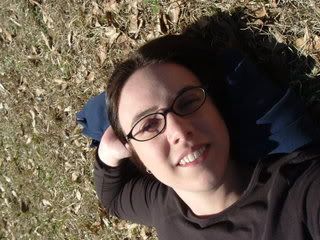 So, I am going to use my first name. I use to dislike the name Lori. Growing up I didn't know any other Lori's and thought I didn't "look" like a Lori, whatever that meant. I grew up in the 80's when girls were named Jennifer or Michelle and Lori just seemed odd to me. Now, I love it and I like that I rarely meet another Lori, especially spelled this way (vs. Laurie).

L- Leo. That is my sign. No, I don't seriously follow astrology but like a lot of people, I have looked up the traits of my sign and it is frighteningly accurate how much of a Leo I am. It's true that I am very loyal, hard working, do well under pressure (at least in a work environment), confident, honest, determined, obsessive, stubborn and full of pride. These traits are what make me likable and what also gets me into trouble.

O- Off-Course. We moved from our home town of Tampa, Florida a few months back. We both left stable jobs with excellent benefits and decent pay so Jared could gain residency in GA and eventually go to law school. This is all exciting, but I have not had a lot of luck finding a job, despite a fantastic resume . . . which makes me feel, well, Lost and Off-Course. Fortunately, Jared has a job that supports us, but I actually like working and it is unsettling to be a unemployed. At least it gives me lots of time to make awesome food and play housewife (which is a very respectable job!) for a bit.

R- Recording/Records. For many, many years I have played music. I started playing violin at age 10 and soon after my dad bought me my first acoustic guitar, and then soon after that I switched to electric guitar and bass. I have had the privilege of playing music with loads of people, including my husband in his last band called Darlings. A few years back I played guitar in a band called Mess of Wires, with my very good friends Katie (played bass), Russell (played drums) and a woman I lost track of named Selina (singer). We had the opportunity to record during an over night session on a very cold December night by a great talent in an impressive recording studio. That night taught me more about professional and personal relationships, even though at the time it seemed like torture.
Here is a picture of our old house where we actually had a music room.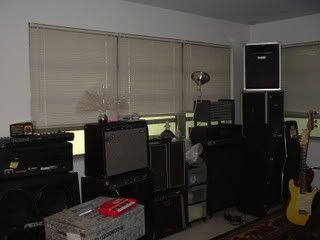 Also, I (we) collect records. And, yes, they still print music on vinyl. This picture only shows about a third of our collection.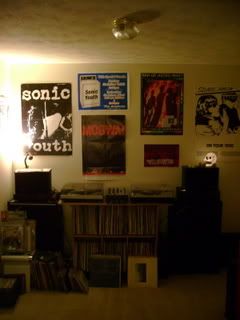 I- Imaginative. I love people watching and I love studying facial expressions, body language, reactions, moods. I take lots in about people and become a story teller. Mainly to myself, but Jared also gets to hear lots of stories I make up about strangers. I am the kind of person that looks at an elderly person and try to imagine what kind of adventures they had when they were my age, if I would have been friends with them if we grew up together.

So, that's it. Some fellow bloggers I would love to tag to also do this would be:

Leigh from Raspberry Swirl (who is also co-owner of Cosmo's Vegan Shoppe in Atlanta, GA.)

Pink Theory from Luminous Vegans

The Urban Housewife

Allie from Feeding the Masses although she hasn't posted in a while : (