Ever since I got my copy of Yellow Rose Recipes on Saturday I have been non-stop in the kitchen. Joanna's cooking style and ingredient lists are very similar to my own recipes, so I was very excited to get my hands on it. This cookbook is a great example of how I would want my own cookbook done: comfortable, healthy (or at least with health in mind) and beautiful!
The first thing I made was the Baked Mac and Cheese (pg. 136) because I am out to find the perfect vegan mac and cheese. This version started like the rest I've tried- cooking the pasta and making a roux with nutritional yeast but something I had never tried was using vegan cheese in a recipe. I have been pretty disappointed with most of the faux cheeses on the market, but so far my favorite cheddar style faux cheese has been the Vegan Cheddar block from Galaxy Nutritional Foods. It still doesn't taste like cow's milk cheese, but it is a nice alternative, especially in this recipe! I did make a couple changes to the recipe because, well, that's what I do. Instead of rice milk, I used soy milk, used crunched up whole wheat crackers on top and I also added ground mustard and onion powder because salt, pepper and nutmeg just didn't give it enough punch. With my adjustments for our taste buds, it is the best mac and cheese I have had being vegan. I had a little mac and cheese with a big salad that had spring mix, tomatoes, onions, red bell pepper, avocado and a homemade sherry vinaigrette.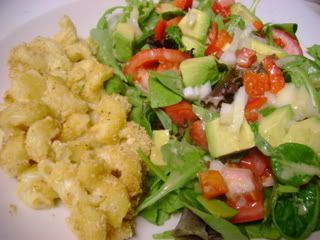 I also made the Chicken Style Seitan (pg. 128) despite not clearly understanding the cooking directions. I wasn't exactly sure how long I should have boiled the seitan, so I only boiled them for a few minutes and then let it set for about an hour in the hot broth. Whatever I did, it worked. This whole process took a long time for some reason, all the measuring I think . . . but it was still very tasty. I coated a couple pieces in a little all-purpose flour and garlic salt and sprayed a fry pan with olive oil cooking spray and browned these babies up!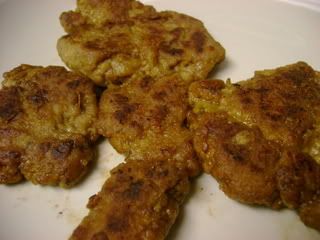 The last thing I made out of Yellow Rose Recipes was the Very Berry Muffins (pg. 24), again with a few adjustments. Instead of egg replacer powder (not a big fan) I used ground flax seed and water slurry. I couldn't find any cheap fresh berries at the farmer's market so I used a strawberry, blueberry and blackberry frozen mix and added a little strawberry extract along with the vanilla extract to up the berry punch. The last adjustment I made was that I added a container of strawberry soy yogurt because I like the taste and texture soy yogurt lends to muffins. They turned out very good and made the house smell like sweet berries.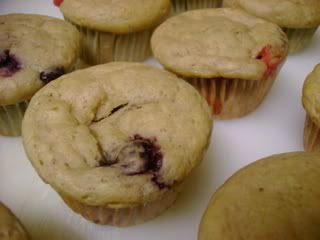 This last picture was from dinner last night. I found a purple cauliflower at the farmer's market that was just screaming out my name. While I don't cook things that scream I ended up roasting this head of cauliflower with just a bit of olive oil cooking spray and salt. I also made garlic herb mashed potatoes that were made with roasted garlic, fresh chives and fresh parsley. The green beans were blanched and then cooked in large fry pan on very high heat with a bit of canola oil until they were a little charred. I added soy sauce, agave nectar, sesame oil and sesame seeds to the green beans at the last minute. This is just a standard veggie plate special at our house, but because the cauliflower was so beautiful, I had to post about it.