I'm not sure if the rest of the country is so fortunate, but being so close to Florida, I've been able to find wonderful strawberries pretty much all year. Actually being from Florida, my dad and I use to pick our own strawberries . . . so, I am use to having great strawberries and was happy to find some Florida berries at the farmers market this week.
I decided to make pancakes with sliced strawberries. I sliced the strawberries and coated them with maple syrup to macerate them a bit.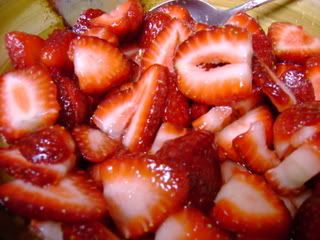 The pancake batter is pretty simple. It's only 1 cup of flour, 1 tablespoon of baking powder, a pinch of sea salt, 1 tablespoon agave nectar, 2 tablespoons of canola oil and 1 cup PLUS 2 tablespoons of soy milk (for a CREPE like batter use 1 1/4 cups of soy milk). I also added about a teaspoon of strawberry extract to my batter this time to intensify to berry flavor. I cooked the silver dollar sized pancakes in Earth Balance and topped them with the macerated strawberries.