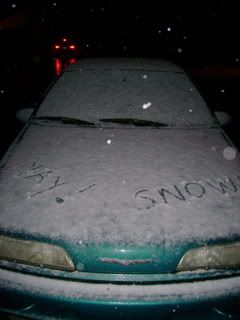 Alright you northerners, excuse my utter joy for snow! It actualy snowed in Atlanta last night for a couple hours. This was the FIRST TIME I had seen snow. It was so beautiful and definitely in my top 10 things for coolest experiences I have had so far in my life. I don't know how to explain it other than, peaceful and amazing. There wasn't enough snow on the ground to make snow angels, but I did get to throw a few snow balls!
Sweetpea seemed unimpressed: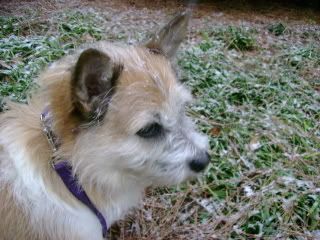 I, on the other hand, was elated: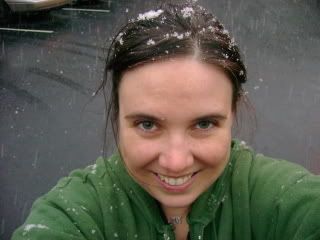 It's no longer snowing but it is really cold. Which reminds me of another of my resolutions for this year (and forever): to eat more veggies and fruit! I know that sounds odd coming from a vegan, but I still find myself not eating as many veggies and fruits as I would like. So, today I made my naughty goddess dressing (because I am the pleasantly PLUMP vegan if you recall) I posted about before to have with some carrots, broccoli and bagel chips I made (leftover/stale bagels sliced thin, baked at 420 with olive oil cooking spray, garlic salt, onion powder and natural sugar until golden brown).