The mountains ARE my favorite place to be of all of this beautiful world's settings (this may change as I travel more, but for now, that's it). I've mentioned before that I spent most summers with my Grammie and Poppie in the house (which they built themselves!) in the mountains of Tennessee, so my love for the mountains started there. Jared and I live about 2 hours away from decent mountains in Georgia. Not having enough time to go back to my stomping grounds in Tennessee this weekend, we decided to take a quick afternoon trip up in Fort Mountain National Park for a little nostalgic nudge to my summers spent and a hike since it was gorgeous out.
No hike should begin without a very hearty breakfast, not something I am generally used to. Since I hadn't had tofu in a while, I decided to make my VERY FIRST TOFU SCRAMBLE!!! I guess I should mention also that my darling Jared bought me a copy of the Yellow Rose Recipes cookbook (which can be ordered at Cosmo's), which is where I got the spice blend idea for the scramble. Except for the spices, I didn't follow the recipe 100% but it turned out well. Our scramble had red peppers and onions cooked for a few minutes until soften and two veggie sausage patties chunked up. I set the peppers, onions and veggie sausage chucks off to the side. Next for the tofu, I sprayed my pan with Olive oil spray and let the tofu firm and crisp up. Once they were cooked I used a few shakes of the book's Tofu Scramble seasoning mix recipe, along with a couple splashes of soy sauce. I add the peppers, onions and veggie sausage chunks back in with the now seasoned tofu. I also used my new cookbook's technique for making homefries, which included parboiling the potatoes the night before and chopping, browning and seasoning the next morning. I added salt, black pepper, cayenne pepper and dried rosemary in ours. Jared said they were his favorite! I also served sliced avocado and a small bowl of the last of the sliced strawberries.
Jared's plate filled up! He had his strawberries in a bowl off to the side.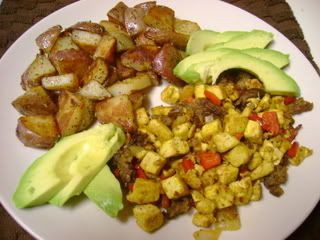 My plate's more modest portions were able to fit my berries on the plate.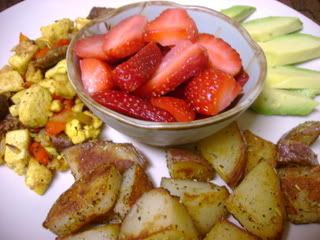 So, full bellies and all, we headed to the mountains.
This first picture was at a lookout going up the mountain towards the park. It just is so peaceful for me to be able to see and feel the mountains again.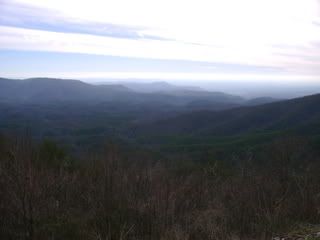 Jared and I at a waterfall we came upon on the hiking trail. If it was warmer, I would have stuck my feet in!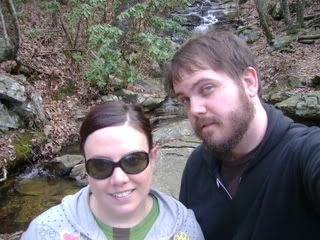 Jared being my Mountain Man, although holding MY hiking stick (I found along the way the start of the hike. Isn't nature cool!) as his prop. He's goofy like that!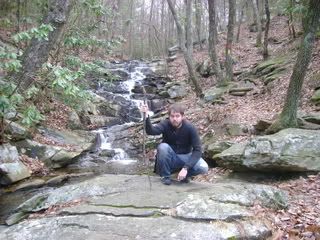 Lastly, this was me checking out this lovely lush green carpet-like moss on some cool rocks.
Notice, I got my hiking stick back!