Another unspoken New Year's resolution I have had swirling in my head has been to eat some sort of bean/pea/legume each and everyday. I have always been a big nerd about nutrition and since becoming vegan, it's gotten worse (I have a Vegan Food Pyramid as the background on my computer). It occurred to me that these small but hearty, unassuming but flavorful little gems are even more important to me now than they ever have been. The great news is that I love all sorts of beans/peas AND most importantly, my body tolerates them extremely well. Today I am consciously making this an everyday thing (poor Jared . . . I may have to pick up some Beano!) although since New Year's Day, I have eaten at least one serving of beans everyday!
Today for lunch I made a tomato bean soup that started out with a carrot, a rib of celery, a few garlic cloves, half of a sweet onion and a good sized sweet potato all diced up and cooked in about 1 teaspoon of olive oil. I also added a bay leaf, a bit of curry powder, oregano, sea salt, black pepper and a little celery salt. I added 2 cups of veggie stock, 2 cups of water and a whole big can of crushed tomatoes with about a tablespoon of natural sugar. For the beans I threw in about 1/3 cup of dry brown lentils and about a cup of leftover cooked garbanzo beans I had in the fridge. Topped with parsley, I am one happy girl!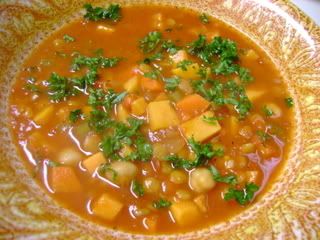 As a side to my soup, I had a slice of this amazing loaf of Whole Wheat Maple bread I made yesterday. This loaf was made in my bread machine and only had whole-wheat pastry flour, vital wheat gluten, water, yeast, maple syrup, sea salt and Earth Balance margarine. This loaf came out dense and chewy, perfect for soup.