When we can't think of anything we want to eat but have tofu in the house, I almost always make this snack. Sometimes I press the tofu but this time I just cut the tofu into triangles and drained them on a paper towel. They were coated in corn starch and garlic salt and shallow fried in canola oil. I made a dipping sauce out of mirin, soy sauce, natural sugar, sriracha chili sauce, sesame oil, green onions and sesame seeds (both white and black).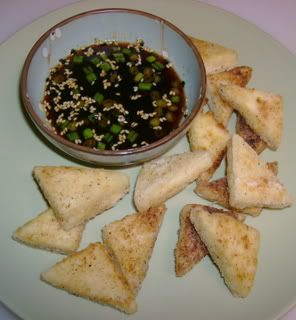 My favorite part of summer, maybe the only thing I love about summer . . . WATERMELON! This one was pretty perfect.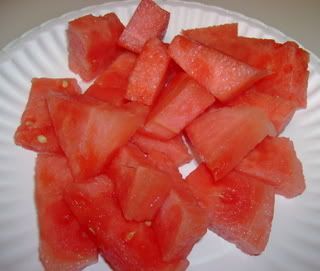 Last but not least, the best vegan creamy style dressing ever. And I made it! It is a cross between ranch and green goddess. It is very naughty because it has the triple threat: Vegenaise, Tofutti Better Than Cream Cheese and Tofutti Sour Supreme. I blended the three together with my immersion blender with a couple green onions, a handful of fresh parsley, agave nectar, celery salt, garlic salt, black pepper, onion powder and cayenne pepper.
I made a salad for dinner with spring mix, broccoli, tomatoes and of course the dressing.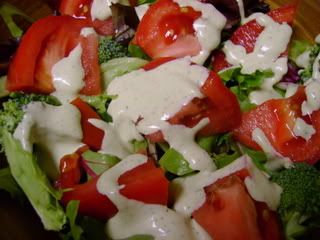 The dressing also tastes amazing with tortilla chips. Plus I like the green hue with the yellow corn chip. Lovely.