We ate at Raging Burrito this past weekend and I finally tried their vegetarian chili atop a lovely salad with lettuce, spinach, carrots, red onions, corn chips, guacamole and salsa fresca. It inspired me to make chili tonight. I made my chili with TVP granules, yellow corn, pinto beans, kidney beans, tomatoes, onion, jalapeno, chili powder, chipotle powder, cumin, cocoa powder, garlic, sea salt and agave nectar. I blended some of it with my immersion blender and topped it off with a few corn chips. The smokey chipotle and rich cocoa powder is a surprisingly awesome addition! The texture is sort of like a Cincinnati style chili, which I suspect would be amazing on a hot dawg as a left over meal.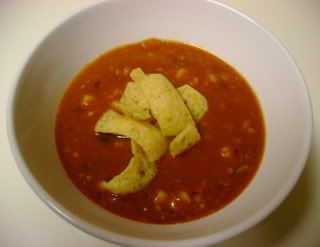 My dad pointed out that this bread I made looks like monkey bread. After some research, most of the recipes I found for monkey bread calls for a refrigerated canned biscuit with loads of butter. Since I made my own yeast bread, skipped the butter and balled it up myself, I decided to call this crazy bread instead. I made another batch of yeast bread as I did a couple posts back and rolled the dough into 21 balls in four different sizes and strategically placed the balls in the loaf pan for a second rise. They were topped with an olive oil and agave glaze and baked until brown and beautiful.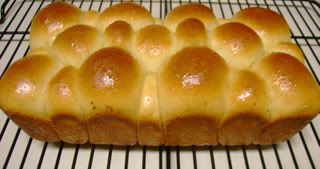 Besides the taste, the best part is pulling apart the pieces.