When I was a kid, my dad always made various sprouts in our kitchen. I do not recall him making bean sprouts but I do remember him making alfalfa sprouts. I decided to give these a try in my own kitchen. I bought both alfalfa seeds and mung beans to sprout, I decided to 1st make mung bean sprouts.
I bought a cheap kit that came with 3 screen tops (fine, medium and course), a large mouth mason jar and very thorough instructions.
Here is a picture of the screen tops: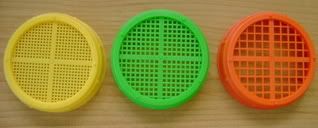 I started with a 1/4 cup of mung beans and a very clean mason jar topped with the medium sized screen top.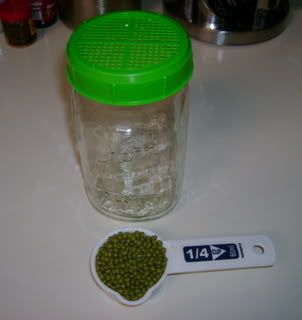 The mung beans were soaked over night in water (4 to 1 ratio of water to beans).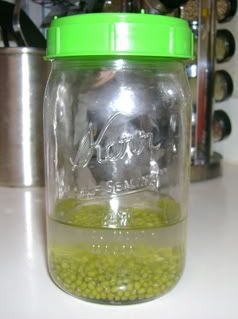 On day 2, the beans were rinsed twice in lukewarm water and rinsed a 3rd time in cold water. The drained beans were placed on an angle upside down for proper ventilation and drainage . . . otherwise they mold quickly.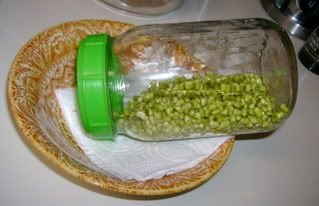 On day 3, the beans, beginning to sprout, were once again rinsed twice in lukewarm water and rinsed a 3rd time in cold water. Once again they were placed at an angle upside down.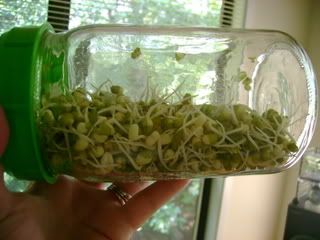 On the night of day 3, I changed the screen to the course setting and began to rinse away the green hulls, since these are what cause the beans to mold quickly. They were again placed upside down at an angle over night.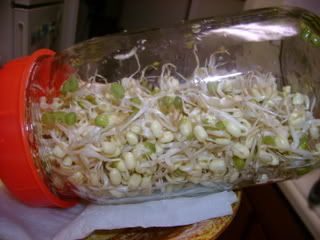 This morning I awoke to these lovely sprouts that I rinsed one final time to get most of the green hulls to wash away. I dried them and placed them in a bowl to keep in the fridge.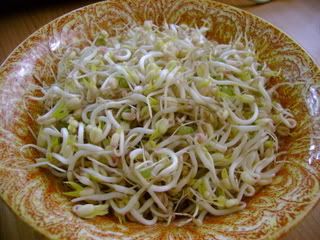 TIPS:
* The initial soak water should be warm.
* The subsequent rinses should be with lukewarm water and the last rinses should be with cold water. There were a total of 6 rinses a day, 2 luke warm rinses and 1 cold rinse, twice a day (morning and night).
* The ideal sprouting temperature is 65-75 degrees.
* Mung bean sprouts like a dark, warmer temperature. Keep in mind, this is not true for every sprout/bean/seed.
* In addition to mung beans and alfalfa seeds, you can sprout lentils, wheatberries, blackeyed peas, garbanzo beans, peanuts, radish and cabbage sprouts.