I love making bread. I love kneading the dough, the smell of yeast before and after baking and watching the whole thing change at every step. The bread I made today was reminiscent of yeast rolls my Grammie made when I was growing up, in both taste and smell. I started with about 3/4 cup of lukewarm water, a packet of yeast, a squirt of agave nectar, a glug of olive oil and sea salt. Once everything was dissolved, I added about 2 cups of unbleached all purpose flour, in 1/2 cup increments until it came together in a ball. I put more flour on my very clean counter top and kneaded the dough for about 10 minutes, adding flour as needed to prevent sticking. When all was said and done, I probably used 2 1/2 cups of flour. In a glass bowl, I covered the ball of dough with olive oil & plastic wrap until it doubled in size. After doubling in size, I put it in a loaf pan and again let it rise until it peeked over the top. I baked it at 400 degrees for 10 minutes, squirting the inside of the oven with water (with my trusty squirt bottle) 3 times within that 10 minutes. Once it was browned, I brushed the top with olive oil and turned the temperature down to 375 and let it bake for another 15-20 minutes. The hard part is letting it rest in the loaf pan for 15 minutes and then letting it cool on a wire rack for about another 20 minutes.
Fascinating, something that started as this . . .


Ended up looking like this . . .


And this . . .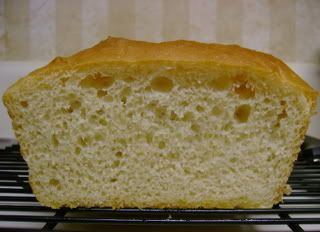 To go with the bread, I made a tomato lentil soup that had onions, carrots, celery, potatoes, red lentils, tomato paste, garlic salt, black pepper, ground coriander, a vegan bouillon cube and a bay leaf.